---
FAST FACTS HAWAII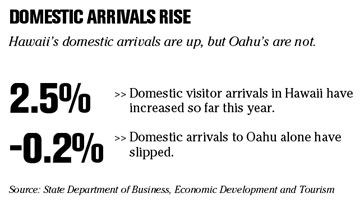 ---
NATION


Deal is largest tech buyout ever

In a rare buyout battle among the titans of private equity, the

Blackstone Group

has come away with a huge prize.

A Blackstone-led alliance that includes the Carlyle Group, Permira and the Texas Pacific Group announced yesterday that it had won the bidding for Freescale Semiconductor, a maker of chips for cell phones and cars, with a $17.6 billion deal. It is the largest leveraged buyout of a technology company ever, surpassing last year's $11.3 billion buyout of SunGard Data Systems.

The Blackstone team, which had been in talks with Freescale for months, beat back a late effort from a group that included Kohlberg Kravis Roberts & Co., Silver Lake Partners, Bain Capital and Apax.

Under the terms of the deal, the alliance will acquire the shares of Freescale for $40 apiece, a premium of 30 percent over Freescale's stock price on Sept. 8, the last trading day before the New York Times reported that the company was in talks on a buyout. The deal was announced yesterday after the stock market closed. Earlier, shares of Freescale slipped 41 cents, to $37.16.
Enron exec gets 4 years probation
HOUSTON » A former assistant treasurer at the disgraced Enron Corp. was sentenced yesterday to four years probation and a $10,000 fine for lying to credit-rating agencies to make the financial picture at the one-time energy giant appear healthier than it was.
Timothy DeSpain, 41, pleaded guilty nearly two years ago to a single charge of conspiracy to commit securities fraud. At the same time, he agreed to cooperate with federal authorities investigating the company, which toppled into bankruptcy in December 2001, evaporating more than $60 billion in market value, almost $2.1 billion in pension plans and, initially, 5,600 jobs.
U.S. District Judge Ewing Werlein, who could have imposed up to a five-year prison term and $250,000 fine under federal sentencing guidelines, said he was impressed by DeSpain's level of cooperation with federal prosecutors looking into the Enron debale and with letters of support from relatives and friends.
Dynegy plans $2.2B acquisition
HOUSTON » Nearly four years after some in the energy industry were ready to write
Dynegy
's obituary, the Houston energy producer and marketer is taking another step toward a comeback.
Yesterday, the company announced a $2.2 billion deal to acquire the power portfolio of LS Power Group, a private New York investment and development firm.
The transaction, to be financed with a combination of stock, cash and debt, marks Dynegy's second acquisition in two years and would boost its power assets by nearly 70 percent.
Dynegy also will acquire a 50 percent interest in a development joint venture with the company, signaling its intent to keep growing as the power sector moves toward more consolidation.
ICE shares soar on NYBOT deal
Shares of
Intercontinental Exchange Inc.
, owner of Europe's biggest energy market, soared 15 percent after the company agreed to purchase the
New York Board of Trade
, or Nybot, for $1.05 billion in stock and cash.
Intercontinental Exchange, also known as ICE and based in Atlanta, will pay 10.3 million shares and $400 million in cash for the New York commodities exchange, the companies said yesterday. Nybot handles trading of futures and options in commodities including coffee, sugar and cotton.
---
BUSINESS PULSE