ELECTION 2006
Bunda pitches in to help oust Democratic incumbent
State Senate President Robert Bunda is stumping for a former state senator challenging incumbent Maui Sen. Shan Tsutsui, who has his eye on the Senate presidency.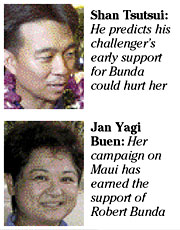 Bunda's entry in the hotly contested, winner-take-all Maui Democratic primary to help former state Sen. Jan Yagi Buen, who lost her seat to Tsutsui in 2002, shows how important several primary races could be in deciding how the leadership in the factionalized, Democratic-controlled state Senate shapes up.
"You're going to get a better sense of it after the primary to see where everybody is," said state Sen. Colleen Hanabusa, who has been a faction leader and is also a candidate running for the 2nd Congressional District seat. "That's going to give you a feel as to whether status quo maintains or there's a move."
In the 25-member Senate, the magic number is 13 for one group to control everything from the Senate president's office to the chairmanship of the committees, especially the powerful Ways and Means Committee.
But organizing the Senate has meant alliances between factions in a shared leadership among the majority Democrats.
When Buen was last in the Senate, she was linked to a faction led by Hanabusa.
But Buen and three other members of Hanabusa's group were voted out of office in 2002.
This week, however, Buen, in her bid to gain back her seat, announced that if she is elected again to the 4th Senate District seat, she would support Bunda for Senate president.
"I find it very surprising that she would make that kind of decision this early in the election," her opponent, Tsutsui, said.
But Buen, who did not return a call seeking comment, said in a news release that finding solutions to issues important to the people of Maui such as health care for seniors and affordable housing means working together.
"That is the main reason I intend to support the leadership of President Robert Bunda, who has demonstrated his ability to work with both parties to affect solutions," Buen said in her statement. Bunda was on Maui yesterday canvassing for Buen, and today he was scheduled to wave signs for her.
"Jan Buen has my support because she prefers an inclusive and collaborative style of leadership -- leadership that seeks results over taking credit and chooses cooperation over power," Bunda said in a statement.
Tsutsui said Buen's early endorsement of Bunda -- who represents Wahiawa and the North Shore on Oahu -- for Senate president could work against her during the election because she has already decided not to support a Maui senator for the Senate's top post.
Having a Senate president from Maui "could bring Maui to the table in terms of the large issues that affect the residents here," Tsutsui said.
Bunda has already lost an ally, state Sen. Brian Kanno, who is not seeking re-election.
State Sen. Les Ihara, part of a group not pledged to Bunda, is in a much-watched primary race in the 9th Senate District against Board of Education Chairman Randall Yee.
The race for the 2nd Congressional District seat being vacated by U.S. Rep. Ed Case could also potentially play into the state Senate organization. Four Democratic senators -- Hanabusa, Clayton Hee, Ron Menor and Gary Hooser -- are candidates, and they do not have to give up their Senate seats because their terms do not expire for another two years.