Cousteau signs on to Big Island development
The ocean explorer's group will assist in a new Punaluu resort
Famed ocean explorer and environmentalist Jean-Michel Cousteau is lending his name and expertise to a 434-acre Punaluu resort proposed for the Big Island.
Sea Mountain at Punaluu
Developer: Sea Mountain Five LLC

Partner: Jean-Michel Cousteau, Ocean Futures Society

Architect: Group 70 International

What: A 434-acre resort in Punaluu that is to include an eco-hotel, up to 300 hotel rooms, 1,200 to 1,500 single-family and multifamily units, golf course, marine conservation center and Hawaiian cultural center
Sea Mountain Five LLC announced yesterday it has formed a partnership with Cousteau's nonprofit group, Ocean Futures Society, in developing a resort that is to include an eco-hotel, renovated golf course and up to 1,500 resort homes and condominiums.
The resort -- which has no name yet -- will be designed in the style of a historical plantation town and offer a marine conservation center, along with retail and commercial areas.
Cousteau, the son of the late Jacques Cousteau, is diving into his first Hawaii development venture. He will eventually become a long-term partner of the development group, according to Pat Blew, managing partner of Sea Mountain Five.
But it remains undetermined whether his name will be on the resort, as it is with the Jean-Michel Cousteau Fiji Islands Resort.
"Part of his job is to act as a consultant to make sure this project is developed in an eco-friendly way," Blew said. "We will make every effort to make this as eco-friendly as we can." The partnership with Cousteau was sealed this summer, he said.
Blew said a contract is in place to buy the resort, pending the approval of a Special Management Area permit. He declined to disclose the purchase price.
Sea Mountain Five also filed an environmental impact statement with Hawaii County for review, but Blew estimated construction would be at least three years away.
Having recently completed a two-hour documentary on the Northwestern Hawaiian Islands, Cousteau said the islands always have held a special place in his heart.
The deal, he said, came about through mutual friends who had a passion for diving.
"We believe it's such a perfect destination for people to understand the connection between the ocean and the land," Cousteau said. "Our new relationship with Sea Mountain provides the ideal opportunity to prove that environmental and economic sustainability are absolutely connected. Sea Mountain will demonstrate the economic benefits of implementing environmental designs and programs."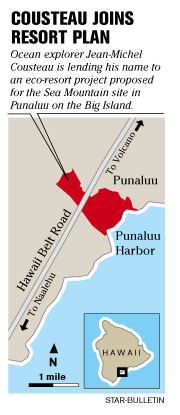 Cousteau's Ocean Futures Society runs an educational program called Ambassadors of the Environment, which connects youth to nature through hikes, diving excursions, slide shows and discussions.
Ocean Futures hopes to offer a similar educational program at the Punaluu resort next summer.
Another one of the group's missions, he said, is to help developers with environmental ethics and guidelines, which is his role for Sea Mountain.
"It would give us a chance to keep an eye on the property at every level," he said.
Sea Mountain is an unfinished resort project started by C. Brewer in the early 1970s -- it had plenty of starts and stops.
Past developers ran into opposition from the community, which had concerns about the conservation of the Punaluu coastline.
Besides Blew, Sea Mountain Five is made up of Bob Barth, Ken Carey, Roger Mercier, all California residents, and John Finney, a Hawaii resident.
Blew, who said he has more than 25 years of development experience on the mainland, lives part time on Kauai and part time in Maryland.
Blew said the new development team will need to upgrade water and sewer facilities, as well as do major work on the resort's golf course.
There will be efforts to incorporate "green building" design elements, where feasible, he said. The developers expect to create more than 500 permanent jobs and donate proceeds to the community.
With Cousteau and architects Group 70 International on board, Blew feels confident the project will be well received by the community and growing niche of eco-tourists.
"The reason it hasn't been successful in the past is its location, as beautiful as it is," he said. "It's only recently that traffic in Kona has gotten so bad that people are now looking for places to go that aren't crowded or that gives them an idea of what Hawaii used to be."
Cousteau spent his life following in his father's footsteps exploring the world's ocean depths, and has long been an advocate for the environment. But more recently, he has been forming more partnerships with large eco-resorts like the one in Fiji.
One day, he said, more resorts will realize that sustainable practices can be economically viable.
"When you have people come out to the ocean, you want to give them the best cultural experience from an environmental point of view," said Cousteau. "When it comes to the Hawaiian culture, you have everything to gain by understanding that culture."