HILIFE

The star is happy to be making a quick return for a gig
It's rare that Hawaii gets to see one of pop music's hottest stars twice in one year, but Rihanna doesn't mind that at all.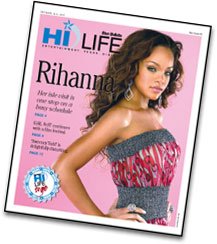 In fact, she loves the idea of returning to the islands after appearing a little over three months ago at the 50th State Fair. This time, fans will see her full stage show when she plays Pipeline Cafe Friday night.
"When I found out I was going there again, I totally accepted it," the courteous 18-year-old Caribbean beauty said via cellphone (she was walking back to her tour bus in the wee hours last Saturday morning in New York). "I love Hawaii. The people are great and friendly, and the weather reminds me of my home, Barbados."
Unfortunately, it only be just a brief, 12-hour visit to Hawaii, as she'll appear the following day at the Los Angeles County Fair.
Rihanna
Place: Pipeline Cafe, 805 Pohukaina St.

Time: 7:30 p.m. Friday

Tickets: $25

Call: (877) 750-4400 or online at ticketmaster.com
The rise of Rihanna's fame over the past two years has been a well-planned one, thanks to her powerhouse record label Def Jam, led by the one-and-only Jay-Z. The summer of '05 was marked by her breakout single, "Pon de Replay," and debut album, "Music of the Sun." This summer the girl has really busted out big-time, with two singles-videos, "S.O.S." (with its "Tainted Love" sample) and the ballad "Unfaithful," heard and seen all over the airwaves. Both songs are off her best-selling album "A Girl Like Me."
And the hits just keep on coming. While Rihanna said she initially wanted her duet track with Sean Paul, "Break It Off," to be the third single-video, the decision was made instead to break out the infectious bump-and-chill "We Ride."
The video -- shot in Miami and the Florida Keys, and directed by Anthony Mandler, who did her "Unfaithful" video -- was just released Monday.
Before that, TV watchers got an eyeful of the former pageant participant as she strutted down the runway at Radio City Music Hall as part of last week's "Fashion Rocks" show on CBS. Performing her hit "S.O.S.," she shook it up draped in a special Zac Posen creation.
(Note: This fashion-illiterate writer defers to the expertise of the Associated Press' Samantha Critchell, who described her outfit as "a seafoam green babydoll dress with a V-neck halter and gold sunbursts around the hem." I can safely say, however, that she further accessorized with gold hoop earrings and necklaces, a black right-handed glove and black boots.)
She wore the same babydoll dress during the final all-star number with Elton John, who hosted the show and whose AIDS foundation benefited from the night's ticket sales.
After headlining her own summer tour, Rihanna's started a fall tour earlier this week opening for another recent Hawaii visitor, the Black Eyed Peas.
As for other projects in the offing, developing her thespian skills is a distinct possibility. She was in an episode of the daytime soap "All My Children" that aired in July and called it "a different experience." (She basically played herself as the special opening-night act of a new club.) "Acting, I'd love to do that, although nothing's been offered me right now."
In the meantime, Rihanna is enjoying the ride of a lifetime. She turns 19 in February, and her career possibilities seem endless. "Things have happened faster -- a lot faster! -- than I could have ever expected. So many great things have already happened for me, that I cannot ever complain."