SKYLiNE Two and Partymasters dive in second pool party
SUNDAY PROVIDES the most diverse options this weekend, with events taking place all day and well into the evening. Get started at the Sheraton Waikiki, when
SKYLiNE Two
and
Partymasters Hawaii
return with their second pool party this month. Special guest
Steve "DJ Kid Millionaire" Aoki
will be in the house after an appearance at "SKYLiNE" on Saturday.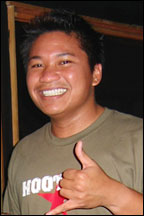 Free parking and cheap cover means more money for mojitos, and the party moves indoors to the Esprit Lounge once things wind down outside around 8 p.m. ...
BASKETBALL FANS won't want to miss the "Killer Crossover Streetball Classic," which brings the action and showmanship of New York's famed Rucker Park to the Blaisdell Arena.
If you've ever caught "Streetball" on ESPN, then you're familiar with the raucous style of play that's nothing like what you see in NBA games. The legendary Philip "Hot Sauce" Champion is this weekend's featured guest, sharing the spotlight with players that have nicknames like Baby Shaq, Violator, High Rizer, Silk and I'll Be Right Back.
Doors open at 5 p.m. Sunday, with Champion's Legends taking on the Hawaii All-Star Street Ballers at 6 p.m. Promoter Hot Lava Entertainment also plans to give away the keys to a brand new 2006 Hummer H3 at some point during the evening. Tickets start at $17.50 ...
OUT ON the Leeward Side,
Iroquois Point Island Club
hosts its "Ohana Sundays Concert Series" this weekend, with free entertainment by
Ten Feet
from 4:30 to 6:30 p.m. If you can't make it,
Kalaeloa
will be the featured band at the next concert on Oct. 15 ...
AND IF you didn't get a chance to see Shawn Felipe at his DVD release show for "Smell My Finger" last month, you have another opportunity to see him perform (and buy a DVD!) this weekend.
"Stir Fry Comedy" takes place every third Sunday of the month at Jackie's Kitchen in Ala Moana Center. Cover is $10, with the stand-up starting around 9 p.m.
Along with Felipe, local comic Stan Egi is scheduled to be at Jackie's, and I'm told there are often guests who show up to get a few minutes of stage time. Call 943-2426 for more info ...
AFTER FORMER host Dita Holifield decided to focus on her music career, local television show "Entertaining in Paradise" has a new leading lady for its upcoming fall season.
Former television news reporter Malia Mattoch-McManus is back in front of the camera, with Michael Miyasato stepping into the role of floral consultant on the program. Spunky T.C. Chun returns to round out the cast, providing helpful craft ideas that will take your next house party to another level.
I was lurking off-camera last month when "Entertaining in Paradise" filmed its first episode, which features a guest appearance by Indigo's Glen Chu, at a Diamond Head luxury home described as the "former residence of famed artist John Young." You can see it yourself on Sunday at 9 p.m. on OC-16 ...