---
FAST FACTS HAWAII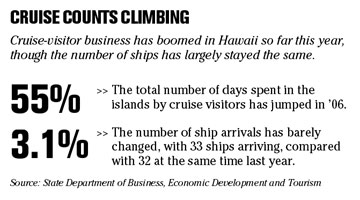 ---
HAWAII


DSL offered at $9.99 for first 3 months

Upping the ante in its bid for new high-speed Internet customers,

Hawaiian Telcom

is offering new DSL customers an introductory rate of $9.99 per month for the first three months. Customers also must have an existing Hawaiian Telcom landline.

Existing DSL customers are eligible to receive a free single season pass for www.HTsportsnet.com, offering live streaming video of UH sports games. Hawaiian Telcom normally sells the pass for $39.95.
Hawaiian to continue flying Raiders
Hawaiian Airlines
has teamed up with the Oakland Raiders again to be the football club's chartered carrier for a seventh consecutive season.
The airline's in-flight service features extra-large meals for players, including fresh fruit and candy baskets. Hawaiian also shows up to three first-run movies during flights.
Hawaiian flew the team to Baltimore for this week's game and also will fly the Raiders to games in Denver, Seattle, San Diego, Cincinnati and New York.
NATION


Ford to offer buyouts to all workers

DEARBORN, Mich. » In the latest sign that Detroit has decided it needs to shrink to survive, the

Ford Motor Co.

agreed yesterday to offer buyouts and other incentives worth as much as $140,000 each to its 75,000 hourly workers in the United States to persuade them to leave their jobs.

The deal with the United Automobile Workers comes after a similar offer at General Motors earlier this year that was accepted by nearly a third of its union workers.

Together, the agreements mean that nearly 200,000 hourly employees in the United States -- or three-quarters of those working on the assembly lines of Detroit's three car companies -- have been offered deals to give up their jobs this year. By contrast, nearly 1 million workers were employed by Detroit automakers at their peak in 1978.
Mortgage rates lowest since April
WASHINGTON » Rates on 30-year mortgages fell for the seventh time in the past eight weeks, dropping to the lowest level since early April.
Mortgage giant Freddie Mac said yesterday that 30-year, fixed-rate mortgages dipped to 6.43 percent this week, down from 6.47 percent last week.
Rates on other types of mortgages declined as well this week. Rates on 15-year, fixed-rate mortgages, a popular choice for refinancing, averaged 6.11 percent, down from 6.16 percent last week. For one-year adjustable-rate mortgages, rates dipped to 5.60 percent, down from 5.63 percent last week. Rates on five-year adjustable-rate mortgages fell to 6.10 percent this week, compared to 6.14 percent last week.
ICE to buy NYBOT for $1 billion
NEW YORK »
IntercontinentalExchange Inc.
, an electronic marketplace for commodities, said yesterday it plans to buy the
New York Board of Trade
for about $1 billion in cash and stock.
ICE said it had a definitive agreement with NYBOT, the world's largest marketplace for futures and options on commodities such as sugar, cotton, coffee and cocoa.
NYBOT, a largely floor-based exchange with open-outcry trading, has been exploring potential buyers and other options for some time. In April, it announced it had hired an investment bank to help.
GE to sell advanced-materials unit
NEW HAVEN, Conn. »
General Electric Co.
said yesterday it will sell most of its advanced materials unit for $3.8 billion in the latest move to reshape one of the world's largest companies.
GE, the industrial, financial services and media conglomerate based in Fairfield, Conn., said after the sale to private investment group Apollo Management LP that it will retain a 10 percent stake in the unit, which has annual revenue of $2.5 billion and makes silicone and quartz products used in industrial applications. The company will also hold $400 million of notes.
INSIDE HAWAII INC.


New Jobs

»

Hawaiian Eye Center

has announced the following promotions and new hires:

Sheri Shaw

joined the Ambulatory Surgery Center as the on-site registered nurse. She was previously employed at Mercy Hospital in Bakersfield, Calif.

Roe Minner

joined the administration department as a full-charge bookkeeper. She was previously an accountant for

Tara's Travel

.

Julieanna Foster

is the new patient services representative at the Hawaiian Eye Center. She previously worked in accounts receivable for

Marian's Catering

.

Annabelle Piano

is now medical assistant/biller in the Patient Services department. She previously served as a registered medical assistant.

Toni Moniz

has been promoted from ophthalmic medical assistant in the Clinic Department to patient services supervisor at the Wahiawa office.

» A&B Properties has hired Natalie Kiehm as vice president of development. She will be responsible for the company's recently announced Waiawa joint venture development with Gentry. Kiehm previously served as vice president, planning and development, for Castle & Cooke Homes Hawaii Inc.

» Avalon Development Company LLC has hired Bill Sakaguchi as vice president of development. Sakaguchi previously worked for Architects Hawaii and was responsible for managing commercial and residential projects.
---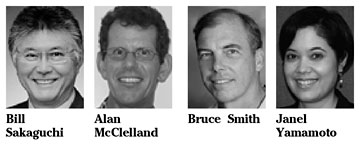 ---
» The Cancer Research Center of Hawaii has hired Alan McClelland as associate director for scientific administration. He will manage the research and instructional activities of the cancer center, and oversee preparation of grant programs. McClelland previously served as vice president of discovery research for Hawaii Biotech Inc.
» The Hawaii Medical Service Association hired Antonio "Tony" J. Saguibo Jr. as assistant vice president of marketing. Saguibo will be responsible for supporting HMSA's marketing efforts related to unions and labor groups throughout the state, and overseeing neighbor island marketing and service delivery. Saguibo previously served as general counsel to the Laborers' Union Local 368.
» HSI Electric has hired Bruce Smith as vice president of marine operations. He will oversee the company's commercial and military field operations nationwide, as well as develop new lines of business that serve the special needs of submarine and aircraft carrier maintenance. Smith retired with the rank of captain from the U.S. Navy and previously served as executive assistant to the deputy commander at headquarters, U.S. Pacific Command at Camp Smith.
» Mauna Lani Resort has hired Mark Glickman as director of marketing. Glickman previously was president of the Glickman Group Inc. in Virginia, where he represented the marketing and public relations interests of leading golf and spa resorts.
» University of Hawaii Agribusiness Incubator Program has hired Janel Yamamoto as incubation specialist. She will provide business consulting to agribusiness clients throughout the state. Yamamoto previously served as vice president and deputy chief compliance officer for First Hawaiian Bank.
---
BUSINESS PULSE