---
FAST FACTS HAWAII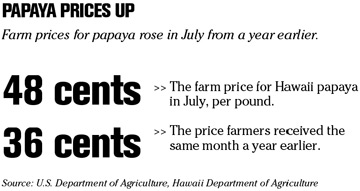 ---
NATION / WORLD
United, American settle class action
CHICAGO »
United Airlines
and
American Airlines
disclosed settlements yesterday in a class-action lawsuit stemming from an investigation into alleged price collusion among carriers in the air cargo industry.
Unlike Lufthansa AG, which said Monday it would pay $85 million to settle pending lawsuits in the case, both U.S. carriers said they are not required to make any payments.
The settlements could close the books on their obligations in the case barring further findings. Officials at both American and United, the largest two U.S. airlines, said that if the Justice Department later brings charges against them as a result of its investigation, the settlements would be off.
More than a dozen airlines have been the subject of an investigation initiated by U.S. and European Union officials into suspected price-fixing in the air cargo industry on surcharges for fuel, security and insurance.
Settlement averts hotel strike
SAN FRANCISCO » More than 4,000 hotel workers have reached a tentative agreement on a new contract with the owners of 13 city hotels, averting a strike and ending two years of tense negotiations.
Negotiators for the Unite Here Local 2 union finished hammering out the details of the five-year contract with the hotels late Tuesday.
The settlement followed an overwhelming vote by union members on Aug. 25 to authorize a strike.
Non-tipped workers would receive a three-dollar-an-hour raise under the new contract, and contributions to workers' pensions would increase by 70 percent, said union president Mike Casey, who called the agreement "tremendous."
Microsoft to boost its dividend
Microsoft Corp.
, the world's biggest software maker, boosted its dividend by 11 percent as the company seeks to distribute more of its $34 billion cash hoard.
The new dividend of 10 cents a share will be paid Dec. 14 to shareholders as of Nov. 16, Redmond, Wash.-based Microsoft said yesterday in a statement. The previous dividend was 9 cents.
Microsoft Chief Executive Steve Ballmer has been under pressure from shareholders to boost the company's stock price, which fell in both 2004 and 2005. The company, which first declared a dividend in January 2003, in July announced a plan to buy back as much as $40 billion in stock.
Russian bank official wounded by assassins
MOSCOW » A deputy chairman of Russia's central bank was seriously wounded in an assassination attempt in the Russian capital yesterday, officials said.
Andrei Kozlov was hospitalized in critical condition with gunshot wounds after the attack in northeastern Moscow late yesterday, said Svetlana Petrenko, a spokeswoman for the Moscow prosecutor's office.
The Interfax news agency said Kozlov's driver was killed by the two attackers, who then fled. The attack occurred at a sports arena where bank workers were having a soccer game, it said.
---
BUSINESS PULSE