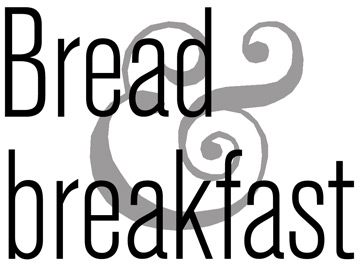 Comfort recipes are a snap to prepare and make it easy to wake up in the morning
THEY'RE the bread-based dishes that make waking up in a great old bed-and-breakfast inn so special: bread puddings, stuffed or perfectly sauced French toasts, pancake or waffle sandwiches, seasonal fruit cobblers, layered "stratas," croissant puffs ... aaaah! Can't you just picture (and sniff?) these lovely, comforting breakfast entrées?
I've found that B&B innkeepers are masters of these breakfast dishes, probably because a variety of awesome entrées keeps guests returning, but also because these dishes can be whipped up without a lot of measuring or fuss. Many are constructed the night before and popped into the oven before guests awaken.
This article features recipes shared by the owners of two mainland inns. At Hawaii B&Bs, innkeepers can't cook for guests in their kitchens because of licensing restrictions. To compensate, most feature elaborate fresh tropical fruit trays, supplemented by purchased baked goods and Hawaii-made preserves or spreads.
So, for "breakfast-in-bread" fare that can be sampled in Hawaii, I asked a Honolulu chef to share the recipe for a popular entrée from his café's menu.
When you cook these old-fashioned dishes, recall the days when the "breakfast in bread" concept included decidedly more tasty and comforting dishes than today's toaster tarts and waffles!
FIRST, to Honolulu chef Anthony Kui Sin Vierra for his version of French toast, created from an "old days" dessert called Bananas Foster. Vierra prepares the dish for weekday breakfasts and weekend brunches at Grand Café, downtown on Pauahi Street. It's doubtful that Vierra's great-grandfather Ti Chong Ho, who founded the original Grand Café and Bakery in Chinatown in 1923, served this particular dish, but it still has that vintage appeal.
Cooking and family go together for Vierra. The Grand Café is a family affair -- Vierra's mom, Mona M. Chang Vierra, and her old friend Patsy Izumo are the owners.
"I can't remember when I wasn't in the kitchen cooking with my family ... I fixed my first complete Thanksgiving dinner when I was 10."
His Bananas Foster French Toast is not a family recipe, but is based on a classic dessert created at Brennan's restaurant in New Orleans in the 1950s. The secret to this indulgence is in the sauce. Traditionally, bananas are sautéed in a mixture of butter, rum, brown sugar and banana liqueur and poured over vanilla ice cream. Vierra serves this same sauce over thick slices of French toast.
The toast is made from sweetbread; it's best to buy a rectangular loaf, not the round type, for uniform slices. (Note that the restaurant portion is very large; at home you could probably stretch this recipe to serve 6 to 8).
---
Island Bananas Foster French Toast
1 loaf Portuguese sweetbread
» Soak:
1 quart whipping cream
6 eggs
1/3 cup sugar
4 teaspoons cinnamon
4 teaspoons nutmeg
2 teaspoons allspice
1/6 cup vanilla extract
» Sauce:
1/2 cup dark rum (Myers brand preferred)
1/6 cup orange juice
1/8 cup brown sugar
2 bananas (preferably locally grown)
Splash banana liqueur (99 brand preferred)
2 teaspoons butter
Cut bread in 12 slices. Arrange in pan in single layer. Combine soak ingredients and pour evenly over bread. Let soak 2 minutes.
Place in hot skillet and toast until golden brown on both sides.
To make sauce: Pour rum into cold pan and heat, simmering until slightly reduced to cook off alcohol (or ignite rum to burn off alcohol). Add orange juice and brown sugar. Simmer until sauce has thickened slightly, then add sliced bananas and liqueur. Stir in butter at the end..
Serve toast garnished with sauce. Serves 3 to 4.
Approximate nutritional analysis, per serving: 2,100 calories, 139 g fat, 81 g saturated fat, 900 mg cholesterol, greater then 1,000 mg sodium, 144 g carbohydrate, 8 g fiber, 66 g sugar, 36 g protein.
---
ALTHOUGH the Six Sisters Bed and Breakfast is located on a grand, tree-lined avenue near the Saratoga Springs thoroughbred racing track in far-off New York, this 1880s Victorian inn has a Hawaiian connection.
Saint Louis High School students might remember "Mr. Ramirez," although if they do, they're not recent grads. Stephen Ramirez was the school's audio-visual director from 1984 to 1988. Then he married Kate Benton and moved to her hometown, where they opened a B&B.
Named for Katie and her five sisters (she also has six brothers, but has no plans to name an inn after them!), the inn is run by Katie, Steve and son Jared.
When he lived in Honolulu, Steve was becoming an excellent chef, and now his breakfasts have been praised by such publications as McCall's and Gourmet magazines, and the New York Times.
Wake up to birdsong at the Six Sisters, and it's likely to be the scent of Kona macadamia nut coffee that lures you to the dining room. And yes ... is it mango bread? Or a breakfast casserole made with Portuguese sweet bread?
Steve admits he misses the islands, so he features Hawaiian foods in many of his breakfasts. For example, he adapted a zucchini bread recipe to make mango bread, using fresh mangos. "I can usually buy mangos and papayas here year-round," he said, "even when our Hawaii friends are complaining about their trees." He shares that recipe and others on the B&B's Web site.
Of the bread used in this "strata," a layered, make-ahead casserole which is a newer addition to his breakfast menu, Steve says that, "The bakery at the supermarket makes 'Hawaiian bread' on order," but you can also substitute white bread if you need to.
---
Bacon-and-Egg Casserole
1 16-ounce loaf sweet bread, cut into 3/4 inch cubes
2 cups finely shredded Mexican four-cheese blend
1/2 pound bacon (8 slices), cooked and crumbled
8 large eggs
2-1/2 cups milk
1/2 teaspoon salt and pepper
1 teaspoon dry mustard
1/2 teaspoon Worcestershire sauce
Salsa or sliced fresh tomatoes
Arrange bread cubes in a lightly greased 13-by-9-inch baking pan. Sprinkle with shredded cheese and crumbled bacon.
Whisk together eggs, milk, salt, pepper, mustard and Worcestershire sauce. Pour over bread cubes. Press down with spoon to allow bread to soak up liquid. Cover and chill 8 hours.
Remove from refrigerator and let stand 30 minutes. Preheat oven to 350 degrees.
Bake 35 minutes our until set and golden. Serve with salsa or sliced tomatoes. Serves 8 to 10.
Approximate nutritional analysis, per serving (without salsa or tomatoes): 240 calories, 6 g total fat, 1.5 g saturated fat, 125 mg cholesterol, 600 mg sodium, 12 g carbohydrate, no fiber, 9 g sugar, 31 g protein.
---
THE ONLY Hawaii connection I can think of for Wisconsin's Port Washington Inn is the one Rita Nelson and I forged through phone calls and e-mailed notes this summer. I'd written "mahalo" on a message about our reservations, and she, in return, wrote, "Mahalo. What a melodic word! And what a beautiful language Hawaiian must be."
Our "Top of the World" suite was on the third floor of the century-old B&B located, quite poetically, atop "Sweetcake Hill."
We sipped our morning coffee or xocolata (a rich Spanish chocolate drink that the Nelsons' daughter, Noelle, sends them from Spain) while watching the sun rise over sparkling Lake Michigan.
Soon, we descended a spiral staircase for breakfast in the antique-furnished dining room. Rita's husband, Dave, grinds his own grains for the breads he bakes each day, and Rita provides delicious spreads and butters to top them, as well as dishes such as this bread pudding, which she serves with rolled-up slices of lean, Wisconsin beef bacon.
Rita, who calls herself "a dump-and-pour cook and baker," wrote down the basics of her bread pudding recipe. "Although once upon a time, I made bread pudding only when I had leftover bread, I now routinely use our whole wheat bread," she said, recommending that you use "the very best bread for the very best pudding."
She also uses sweet, luscious, Door County, Wis., cherries, but wrote, "Since I'm woefully ignorant of the fruits you have in abundance in Hawaii, I will depend upon you for other fruit ideas." I've suggested alternatives for when you prepare your own heavenly "breakfast in bread."
---
Port Washington Inn Bread Pudding
1 stick butter, divided
4 cups bread, in 1-inch cubes
1/3 cup dried cherries (see notes)
6 eggs
2 cups milk or half-and-half
1/4 cup maple syrup
2 tablespoons coarse sugar
Preheat oven to 400 to 450 degrees. Melt half the butter and pour evenly over bottom of a jelly-roll pan. Add bread cubes and toast, stirring occasionally, until golden brown, 10 to 15 minutes. Remove from oven and reduce oven temperature to 350.
Melt remaining butter in bottom of 9-inch pie plate. Add toasted bread cubes. Sprinkle with dried cherries.
In a blender, combine eggs, milk, and syrup. Pour blended mixture over bread cubes, adding more milk, if needed, to bring liquid as close as possible to top of pie plate. Sprinkle sugar over top and bake until golden brown and set in middle, about 50 minutes. (Pudding may also be covered and refrigerated overnight, then baked at 350 degrees the next morning.)
May be served with dark sweet cherries, cherry sauce, or sour cream sweetened with maple syrup, if desired. Serves 8.
Approximate nutritional analysis, per serving (using milk): 290 calories, 18 g total fat, 10 g saturated fat, 200 mg cholesterol, 300 mg sodium, 25 g carbohydrate, 1 g fiber, 15 g sugar, 8 g protein.
---
Notes: For the fancied-up pudding in the photo, I added 6 bread slices, cut diagonally into quarters, around the top. To make sufficient custard for all of the bread, blend 8 eggs, 3 cups half-and-half and 1/3 cup maple syrup. Cherry-flavored Craisins (dried cranberries) substituted for Rita's Door County cherries were good, but I plan to experiment with dried mangos or papayas next time. Rita uses turbinado sugar entirely; I sprinkled Maui Brand "Premium Maui Gold" sugar crystals for a similar effect.)