---
FAST FACTS HAWAII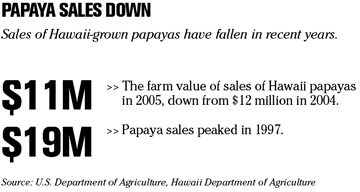 ---
HAWAII
Jack in the Boxes sold for $19 million
The sale of 25 company-operated Jack in the Box restaurants in Hawaii to
Scanlan Management LLC
yielded about $19 million in cash,
Jack in the Box Inc.
said yesterday . The deal, announced last month, closed on Monday.
Chris Scanlan, president and CEO of Scanlan Management, also signed a development agreement to add new Jack in the Box restaurants in Hawaii, the first of which is expected to open by Oct. 1.
"We're pleased to welcome to the Jack in the Box family such an experienced and well-respected franchise operator who can build upon our long-standing success in Hawaii," said Linda A. Lang, chairman and chief executive officer. "This transaction represents the first sale of an entire market since we announced our strategic initiative to expand franchising in 2002. We believe there is tremendous potential to continue leveraging franchising to expand the Jack in the Box brand in existing and new markets."
San Diego-based Jack in the Box Inc. operates and franchises more than 2,000 Jack in the Box restaurants in 17 states.
Local software firm gets $3 million
PCLender.com Inc.
, a Honolulu-based software company, announced yesterday that it obtained $3 million in equity financing to fund a planned expansion on the mainland.
The company, which has 35 employees in Honolulu, the Philippines and the mainland, produces mortgage banking software for credit unions, community banks and mortgage companies.
Lionel Urban, PCLender's chief executive, said the company is well-positioned to help mortgage lenders operate more efficiently amid a downturn in the real estate industry. "Our software is specifically designed to streamline the mortgage process, from loan origination to secondary marketing," he said.
Sennet Capital LLC provided financial and advisory services for the deal.
Kasanow named among top 100
Kasanow & Associates: Wealth Management,
a Honolulu-based firm that requires a minimum investment of $1 million for new clients, has been recognized as one of Worth magazine's "Top 100 Wealth Advisors."
The fee-only financial planning and investment advisory firm will be listed in the publication's October issue.
Worth magazine has previously listed Kasanow & Associates as one of the top 250 advisors in the nation consecutively from 1997 through 2002. The firm also has been on Worth's list for the "Top 150 Financial Advisors for Doctors" from 1998 through 2006.
On vacation
Erika Engle is on vacation. TheBuzz will return tomorrow.
[HAWAII INC.]
NEW JOBS
» Radisson Waikiki Prince Kuhio has announced two new hires.
Lois Shimada
has been hired as director of catering. She previously served as catering sales director for the Renaissance Ilikai Waikiki Hotel.
Linda Saito
has been hired as catering sales manager. She previously served as director of food and beverage for the Luana Hills Country Club.
» The Pacific Basin Economic Council in Hong Kong has hired Honolulu resident Robert Lees as president and CEO. Lees previously served as head of PBEC from 1992 to 2001 when the organization was headquartered in Honolulu.
» Castle Resorts & Hotels has appointed six new general managers. Larry Mayo was hired as general manager of Imperial Suites Hotel on Guam. He most recently was general manager of Hotel Santa Fe on Guam. Randy Ahlo has been promoted from general manager of the Island Colony to general manager of the Waikiki Shore. Terry Kaumualii Yasuhara has been hired as general manager for the Island Colony. He previously was general manager of the Shores at Waikoloa. Norman Higashi has been hired as Kona Bali Kai's general manager. He most recently served as resort manager for the Makaha Resort & Golf Club. Kenny Ching has been hired as general manager for Kamaole Sands in Kihei. He was previously regional director of culinary services for Hawaiian Hotel and Resorts. Charmaine Augustiro has been hired as general manager of Kaluakoi Villas on Molokai. She previously served in management positions for several Molokai resorts.
» Premier Resorts has hired Tom Borges as general manager of the Kahana Sunset resort on Maui. Borges previously served as director of owner relations for the Kapalua Villas.
---
NATION
Huge legal merger in discussion
Two prominent law firms on opposite coasts confirmed yesterday that they were discussing a possible merger that could create one of the nation's largest corporate legal advisers.
Should the talks bear fruit, the two law firms -- Dewey Ballantine of New York and Orrick Herrington & Sutcliffe of San Francisco -- would form a partnership with more than 1,200 lawyers and almost $1 billion in annual revenue. News of the possible merger was first reported yesterday by American Lawyer magazine.
While the chairmen of the law firms said the discussions were preliminary, they said in statements that given the possibilities of such a tie-up, holding talks made sense.
Europe and Japan boost McDonald's
OAK BROOK, Ill. »
McDonald's Corp.
yesterday reported a 6 percent increase in monthly sales at restaurants open at least a year, boosted by strong growth in Europe and Japan and the newly introduced Snack Wrap chicken sandwich in U.S. restaurants.
The company's August sales reflected continuing momentum in Europe, where its restaurants had posted mixed results for years until generating their best sales in over a decade in the second quarter. Comparable or same-store sales, a widely used industry gauge of performance, grew 8.8 percent at its European outlets in August, led by France, Germany and the United Kingdom.
Same-store sales in the Asia/Pacific Middle East and Africa regions grew 6.1 percent, which McDonald's said was due primarily to strong results in Japan.
Some Canon copiers may be a fire risk
TOKYO »
Canon Inc.
said yesterday it will inspect and provide free parts replacements for 1.87 million personal copiers worldwide because of a risk some may catch fire.
The copiers at risk are spread across 11 models manufactured from 1987 to 1997 and sold worldwide, the Tokyo-based company said. Of these, 820,000 were sold in North America, 690,000 in Europe, 140,000 in Japan and 220,000 in other regions, according to Canon spokesman Mayuko Yaguchi.
A problem with the copiers' wiring means the machines could overheat and emit smoke or catch fire, Yaguchi said. Three instances of copiers overheating have been reported since 1992, the latest in July this year, but there have been no injuries.
---
BUSINESS PULSE