9/11 ceremony draws hundreds
A lone trumpet solemnly played taps as about 400 people joined hands at Tamarind Park in downtown Honolulu yesterday to remember the thousands of victims killed five years ago in the Sept. 11, 2001, terrorist attacks.
"It really affected me," said Ruth Runnels, an employee of American Savings Bank at the Financial Plaza who attended the ceremony to pay her respects to the victims. "Just being here gives me goose bumps."
"It's so tragic. I think everyone feels it, even though we didn't know the victims personally," Runnels said.
The 9/11 remembrance ceremony was organized by U.S. Rep. Neil Abercrombie to honor the nearly 3,000 victims who died that day, including more than 400 firefighters and police officers, and nine people with Hawaii ties.
Abercrombie, Mayor Mufi Hannemann, Honolulu Fire Chief Kenneth Silva and other officials from the Honolulu Police Department, Honolulu Fire Department, Emergency Medical Services and Oahu Civil Defense attended the ceremony.
Officials also honored Honolulu's police officers, firefighters and paramedics whose lives are put at risk daily and whose colleagues in New York were victimized doing what they were trained to do: protect people and get them out of harm's way.
'God Bless America,' sings Hawaii-grown Pentagon hero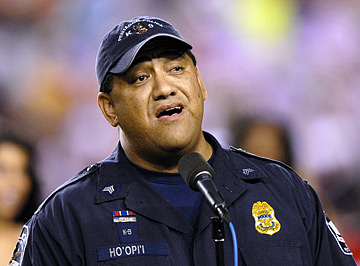 "The governor summed it up last night (Sunday). ... When there's a calamity, everybody's running away, and it's the first responders who are running toward the disaster to try to help others," said Dr. Elizabeth "Libby" Char, director of the Department of Emergency Services.
Gov. Linda Lingle led a city-organized remembrance walk on Sunday from the Honolulu Police Department to Honolulu Hale to honor the victims for the fifth anniversary.
Char said the terrorist attacks "forever changed the world."
It was a senseless act of violence that shattered the lives of many, said Honolulu Deputy Police Chief Paul Putzulu, whose brother-in-law, Michael Collins, 38, of Montclair, N.J., was killed after an airplane slammed into the north tower of New York City's World Trade Center.
"My sister-in-law lost her husband, truly the love of her life," Putzulu said.
Collins, the late husband of Lissa Collins, was a manager for the eSpeed Division of Cantor Fitzgerald. He was one of more than 600 Cantor Fitzgerald employees killed in the attacks.
Some Putzulu family members are in New York with Lissa Collins -- a 1977 Leilehua High School graduate and sister of Putzulu's wife, Laura -- to support her during the fifth anniversary.
"She's a very strong person," he said, adding that she is doing well.
"She gets up every day and perseveres -- so we can do the same," Putzulu said.