| | |
| --- | --- |
| | Newswatch |
---
GIANT COTTON SWAB JOINS WILCOX NURSES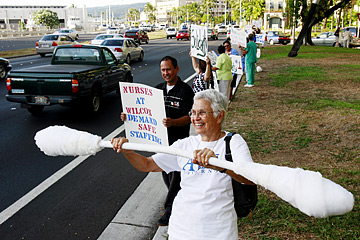 Airport roads to be resurfaced
It might be slow going at Honolulu Airport today, tomorrow and Thursday because of road resurfacing.
From 10 p.m. today to 6 a.m. tomorrow, the departure-level down ramp will be closed from the United Airlines check-in to Aolele and Paiea streets.
From 10 p.m. tomorrow to 6 a.m. Thursday, the arrival-level road will be closed from the Diamond Head side of baggage claim area H to Aolele and Paiea streets.
---
SHINING STARS
---
Schuler Foundation donates $75,000 for scholarships at Kapolei prep school
The
James Schuler Family Foundation/D.R. Horton Schuler Homes
has awarded a five-year grant of $75,000 to
Island Pacific Academy
for scholarships. It will be distributed in annual increments of $15,000, beginning this school year.
The college preparatory coeducational school is in Kapolei, serving the rapidly growing West and Central Oahu communities since 2004.
Other tuition grants for students include:
» $30,000 from three awards from
Frear Trust
.
» $20,000 in three grants by McInerny Foundation.
» $10,500 in three grants from the G.N. Wilcox Trust.
» $50,000 in two grants from the James and Abigail Campbell Family Foundation.
---
The Honolulu Emergency Services Department's Junior Paramedic Program has received the American Heart/American Stroke Association Young Hearts Award.
It recognizes young persons or groups under age 16 for outstanding contributions to the association's goals.
The juniors have become a vital link in the first-responder community and volunteer at community events.
---
"Shining Stars" runs Monday through Thursday.
| | |
| --- | --- |
| | Police, Fire, Courts |
---
NORTH SHORE
Woman on bike is badly hurt when struck by car
A bicyclist was struck by a car and critically injured yesterday afternoon in Haleiwa.
The woman, who appeared to be in her 30s, was struck by a car near Alii Beach Park on Waialua Beach and Haleiwa roads, said Bryan Cheplic, spokesman for the Emergency Services Department.
The woman was taken by ambulance to Kaiaka Beach Park and medevaced to the Queen's Medical Center in critical condition.
HONOLULU
Bicycle accident leaves man in critical condition
Police said a bicyclist, about in his 40s, was in extremely critical condition after he was struck by a car in downtown Honolulu at about 3 p.m.
The man was riding his bicycle on Aala Street in the makai direction near Vineyard Boulevard and cut in front of a car heading mauka when he was struck, police said.
The man was taken to the Queen's Medical Center.
Police seek suspects in alleged murder attempt
Police were investigating a possible attempted murder case last night on University Avenue involving two groups of three males.
Police said three males approached another group of three sitting in a truck and demanded a skateboard and threatened them with a gun, although none was seen.
The trio in the truck allegedly drove the truck at the other three, crushing one of the suspects against a rock wall.
EAST OAHU
'Freak accident' hurts man at shooting range
A 30-year-old man was hit in the neck by a bullet that possibly ricocheted at the Koko Head Shooting Range at about 10:15 a.m. Sunday, according to Emergency Services Department spokesman Bryan Cheplic.
The man was taken in critical condition to the Queen's Medical Center, but his condition was upgraded to serious, Cheplic said.
City Parks Director Les Chang is awaiting the incident report and will evaluate the city's practices at the shooting range to determine whether changes need to be made.
Chang called it a "freak accident," in which the victim was "standing in what is described as a safe zone," said city spokesman Bill Brennan.
It was the first such incident in the 20 months Chang has been in office, Brennan said.
NEIGHBOR ISLANDS
Kauai house fire does $140,000 in damage
KAUAI » Fire caused $140,000 damage Sunday afternoon to a two-bedroom Kalaheo house and its contents.
No one was home at the time of the fire, which was reported at 1:05 p.m. at 4447-B Papalina Road. Preliminary reports show the fire ignited in the living room and spread to the hallway, the Fire Department said.
Escapee turns self in after 5 days on run
HILO » Big Island escapee Konrad Ross is back in police custody after turning himself in Sunday night at the Hilo police station, police said.
Ross, 36, from the Hamakua District, had been taken into custody Wednesday for violating the terms of his release on bail for another offense, police said.
While being transferred from one police car to another at the boundary of the North and South Hilo districts at Hakalau, the 6-foot-7, 240-pound Ross freed himself from plastic handcuffs and fled on foot, police said.
Ross is being held for the original bail violation.