---
FAST FACTS HAWAII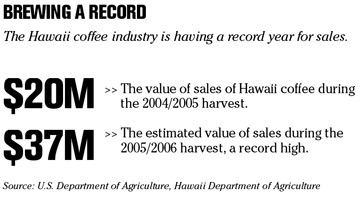 ---
HAWAII
Hawaiian Airlines fills fewer seats
Hawaiian Airlines
filled fewer seats in August than it did a year ago and during the previous month as the interisland fare war continued and competition increased on mainland routes.
The carrier's load factor of 85.7 percent was down from 90.1 percent a year ago, and off from 89.3 percent from July. The total number of passengers it carried rose 3.1 percent to 548,169 from 531,934 in August 2005 but was down from 571,569 in the previous month.
Hawaiian's total miles flown by paying passengers fell 5.1 percent to 596 million from 628.2 million a year ago while the total number of available seats calculated by miles flown slipped 0.2 percent to 695.5 million from 696.9 million.
The carrier only reports its systemwide numbers and does not break out figures for its interisland and trans-Pacific routes.
Sunterra renames 2 isle resorts
Nevada-based timeshare owner
Sunterra Corp.
announced yesterday the rebranding and renaming of its two flagship properties in Hawaii.
Effective Sept. 30, the Poipu Point Vacation Resort on Kauai will be renamed the Point at Poipu, a Sunterra Premier Resort, and Kaanapali Beach Vacation Resort on Maui will be renamed Kaanapali Beach Club, a Sunterra Premier Resort.
Las Vegas-based Sunterra owns nearly 100 resorts in 13 countries. It expects to roll out properties under the new brand in 2007.
On vacation
Erika Engle is on vacation. TheBuzz will return on Thursday.
NATION / WORLD
Board told to fire Bristol chief
A court-appointed overseer has recommended that the embattled head of
Bristol-Myers Squibb
be fired for his recent handling of a patent dispute that led to a criminal investigation, according to a participant in a meeting yesterday evening where the recommendation was made.
If the board takes the action at a meeting today, it would end a troubled five-year tenure for the executive, Peter R. Dolan.
The board appears bound to abide by the recommendation from Frederick B. Lacey, a former federal judge. Lacey is monitoring the company's behavior under the terms of an agreement the company reached with the federal government last year in hopes of avoiding criminal prosecution for an accounting scandal.
OPEC concerned by falling prices
VIENNA, Austria » A wary OPEC said yesterday it will keep pumping crude at current levels, while also making clear it would consider scaling back production if oil prices keep plummeting.
The Organization of Petroleum Exporting Countries -- anxious to keep prices already at five-month lows from a free fall -- pledged to "vigilantly monitor" the combination of rising inventories and easing political tensions that have pushed crude down by almost $13 a barrel since midsummer.
OPEC's output quota will remain at 28 million barrels a day, the 11-nation group said, acknowledging that supplies are "more than adequate" to satisfy world demand. Including Iraq, which is not bound by the quota system, OPEC's daily production is roughly 30 million barrels.
Wynn dealers angry about sharing tips
LAS VEGAS » About 100 dealers filed complaints with the state labor commissioner yesterday over a new pay scheme at
Wynn Resorts Ltd.
that began to split their tips with their supervisors.
All of the claims were filed anonymously and none of the complainants claimed to have lost income because of the new policy, said Amanda Penn, spokeswoman for the state Department of Business and Industry, which oversees the commissioner's office.
Wynn Las Vegas President Andrew Pascal said the table games division pay change was prompted by a widening disparity between the income earned by dealers and casino floor supervisors.
Pascal has said that Wynn dealers averaged more than $100,000 per year in salary and tip earnings, making them the highest-paid in Las Vegas. Their supervisors averaged about $60,000 a year in salary.
The restructuring will have dealers earning an average of $90,000 a year while supervisors will be paid $96,000, he said. Performance bonuses could boost dealers salaries up to $96,000 as well, he said.
Girl sues Warner, band over video
LOS ANGELES » A 16-year-old girl sued
Warner Music Group
and the rock group Buckcherry, claiming the band lured the teen to a club where she was coerced into making a pornographic music video.
The lawsuit filed last week in Los Angeles Superior Court claims damages in excess of $25,000 against the New York-based recording company, its Atlantic record label, the band, and several others allegedly involved in making the video.
The band posted a notice on Internet teen hub MySpace, inviting fans to attend a casting call at a Los Angeles nightclub to make a music video, noting free food and alcohol would be provided, according to the lawsuit. The plaintiff, listed only as Jane Doe, attended the shoot and was repeatedly urged to drink shots of alcohol and filmed while engaged in sexually explicit acts with another girl, the lawsuit states.
---
BUSINESS PULSE