BOB KRAUSS / 1924-2006
Columnist captured Hawaii's heart
Longtime columnist Bob Krauss of the Honolulu Advertiser died yesterday at Kaiser Moanalua Medical Center while recovering from triple-bypass surgery.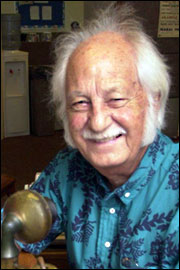 According to a nursing supervisor, Krauss died from cardiac failure. He was 82.
He loved people, said his daughter, Ginger. "He had no intention of retiring. He was having too much fun."
Krauss underwent surgery on Thursday, said Michael Fisch, president and publisher of the Advertiser.
"Obviously, we're all very saddened by Bob's death," Fisch said, describing Krauss as a great Hawaii citizen and a good friend. "His storytelling and his enthusiasm in all parts of his life were infectious," he said.
In his last column, on Aug. 27, Krauss wrote about his decision to undergo surgery, saying, "I could play it safe and turn into a couch potato. But that would mean I'd have to stop writing stories for you."
Krauss also expressed his passion for writing, describing it as a "constant adventure."
"We all have to admire a guy who at 82 was looking for a way to allow himself to continue going full throttle in the years to come. Unfortunately, the surgery wasn't successful," Fisch said.
Fisch said Krauss will be best remembered for his storytelling spanning more than half a century. "I think that he had an innate ability to speak the voice of the person he was talking to and get out of them the passion for whatever they were doing and reflect that in his storytelling," he said.
Krauss wrote 8,000 columns during his career at the Advertiser, where he would have celebrated his 55th anniversary on Oct. 15. He also managed to find time to write 14 books, including "Keneti: South Seas Adventures of Kenneth Emory," "Johnny Wilson: First Hawaiian Democrat," "Falls of Clyde: 324 Voyages Under Sail" and "Birth by Fire: A Guide to Hawaii's Volcanoes."
Mike Middlesworth, who was managing editor at the Advertiser in the 1970s and '80s and worked with Krauss for 20 years, said the columnist could talk to anybody.
"It didn't matter if it was some homeless guy or whether it was a president of a bank. He could always get good interviews and write good, colorful features about people," he said.
Gordon Piianaia, captain of the Hokule'a during its voyage from Tahiti to the Cook Islands in the mid-1980s, has fond memories of Krauss, who joined the crew to write about the journey. During the voyage, Krauss was a bunkmate of Abraham Piianaia, Gordon's father, a respected voyager and University of Hawaii professor who died three years ago.
"He was Hawaii's waterfront reporter, no question about it," said the junior Piianaia.
Krauss typed his stories on a manual typewriter and, when overseas, would ask passengers flying back to Honolulu to drop off his copy at the Advertiser. "About 80 percent of his stories got back in good time," Piianaia said.
Krauss was also well known as a tenacious supporter of the Hawaii Maritime Center, particularly the oil clipper Falls of Clyde, said Blair Collis,* vice president for public operations of the Bishop Museum, which owns the maritime center.
He and others spearheaded a fundraiser to restore the ship, which was built in 1878. Krauss, through his columns and love of the oil clipper, brought the ship back, Coolis said.
"We are deeply saddened by the loss," he said. "He'll be greatly missed."
Krauss, born in Nebraska and raised in Kansas to a Lutheran missionary father who immigrated from Germany, studied journalism at the University of Minnesota. He came to Honolulu in 1951 for a job at the Advertiser.
Krauss is survived by daughter Ginger, sons Robert Mickelsen and Buck Mickelsen, sisters Gertrude Onstad and Marie Volgel, brothers Karl and Eugene, and four grandsons.
---
Star-Bulletin reporter Robert Shikina contributed to this report.
CORRECTION
Tuesday, September 12, 2006
» Honolulu Advertiser columnist Bob Krauss was born in Nebraska and raised in Kansas. A Page A3 obituary in yesterday's early edition incorrectly said he was born in Kansas. Also, Blair Collis is the vice president of public operations for Bishop Museum. His last name was misspelled in the article.