---
Piano man plans December concert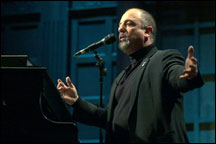 Tickets go on sale Saturday for Billy Joel's Dec. 16 concert at the Blaisdell Arena. The celebrated "Piano Man" last played in Hawaii a decade ago. Tickets are $65 and $95. Sales will begin at 9 a.m. at the Blaisdell Box Office and all Ticketmaster locations; or call toll-free 877-750-4400 or visit ticketmaster.com. Joel's concert is presented by KGMB television, Marek Lieberberg Presents and Live Nation.
Sherman shares his celebrity encounters
Writer Eddie Sherman will read from his new book, "Frank, Sammy, Marlon and Me: Adventures in Paradise with the Celebrity Set," at the Hawaii Jewish Seniors Luncheon, 11 a.m. Thursday at Temple Emanu-El.
Sherman's talk is free and open to the public. Lunch costs $6 for members, $10 nonmembers, and includes choice of bagels and lox, turkey on rye or a Greek salad.
Lunch reservations must be made by tomorrow. Call 595-7521.
Reflexology and vodka mix at bistro buffet
Panya Bistro's Fall Event on Sunday will explore an eclectic range of interests.
June Ho, a numerologist and feng shui expert, will host a workshop, followed by short readings for all participants; Better Brands will host a wine tasting, including Maui Vodka; and Aveda Salon & Spa will offer short reflexology treatments.
All this and a buffet dinner, too. The event runs from 6 to 9:30 p.m. at the Ala Moana Center restaurant. Cost is $85. Call 946-6388.
Nominations sought for agriculture awards
Nominations are being accepted through Friday for the Hawaii Agriculture Awards.
Awards will go to organizations or individuals in the categories of Outstanding Agriculture Operation, New Farm Operation (less than 3 years old), Friend of Agriculture and Innovative Value-Added Products.
The awards will be presented at the 2006 Agricultural Conference, Oct. 26 in the Hilton Hawaiian Village Coral Ballroom.
For a nomination form, call 947-2914 or download one from the Web site www.agconference.org.
Chicken-skin stories put a chill on the air
This month's "Talk Story Radio" shows lean toward the spooky. The shows, hosted by storyteller Jeff Gere, air at 5:30 p.m. Mondays on KIPO (89.3 FM), 6 a.m. Fridays on KTUH (90.3 FM) and 10 p.m. Sundays on Mana'o Radio (91.5 FM).
This week: "Spooky American Histories," with Sandra MacLees and Lyn Ford.
Next week: "McCarthy Spookies" with James McCarthy and Leslie Kline on violin.
Week of Sept. 25: "Weird Kids," with Vernyce Dannells, Lyn Ford and James McCarthy.
Ballet Hawaii seeks volunteer coordinator
Ballet Hawaii is looking for a coordinator to organize a volunteer pool.
Responsibilities will include assisting in staffing needs for productions, fundraising events, community outreach activities and the annual fund drive. The part-time position is based on Ballet Hawaii's seasonal schedule of events.
Applicants should have three to five years' experience in fundraising and volunteer motivation and a basic knowledge of office skills, including data entry, spreadsheets and Internet communications.
Call 521-8600.
ON TV
Emme revisits 9/11 special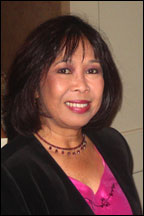 Emme Tomimbang's "9-11 Remembered: Five Years Past" will air at 9 tonight on KHON/Fox.
The show is a re-edited version of "Hawaii to New York: The Aloha Spirit Lives," broadcast on Aug. 22, 2002. It includes follow-ups to the show's key stories.
The original program centered on the singing group DisGuyz's journey to Long Island to perform "Our Nation in Song" for a tribute that Lauren and Kaitlynn Meisenheimer organized for their firefighter father, Ray, who died in the World Trade Center. The show also features other Hawaii connections to the tragedy -- and the recovery -- of Sept. 11, 2001.
Among them are Punahou School graduate Jim Simpson's play "The Guys," which starred his actress-wife, Sigourney Weaver.