| | |
| --- | --- |
| | Newswatch |
---
Ariyoshi opens economic forum
Former Gov. George Ariyoshi gave opening remarks at the Northeast Asia Economic Forum annual meeting in Khabarovsk, Russia, last week.
Ariyoshi is chairman of the Hawaii Asia Pacific Institute, which heads the forum. The host city changes every year and was in Hawaii in 1996.
Participants at the conference discussed regional cooperation in energy, transportation, finance and tourism.
New roads, traffic light to be opened in Aiea
City officials will dedicate new roads in the Aiea Industrial Subdivision at 9:30 a.m. tomorrow at the intersection of Ulune Street and Kulawea Street, a city news release said. A new traffic light will be activated at the intersection.
Other roads to be opened in the area of the old Aiea Sugar Mill include: Halewiliko Street, Halewiliko Place and Pohai Place. Halewiliko Street connects Aiea Heights Drive and Ulune Street.
The new roads were constructed by the industrial park developer, Bank of Hawaii, and will be transferred to the city.
MAGICALLY CLEAN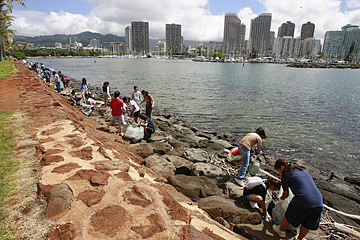 | | |
| --- | --- |
| | Police, Fire, Courts |
---
NEIGHBOR ISLANDS
Kihei motorcyclist dies after hitting car
A 22-year-old Kihei motorcyclist died in a crash with a 2002 Mercedes Benz sedan at 12:01 a.m. yesterday on South Kihei Road near Kamaole Beach Park II, police reported.
The man died at the scene. Police withheld his name pending notification of next of kin.
The motorcyclist was operating a blue 2001 Suzuki motorcycle. He was not wearing a helmet, police said.
The man was traveling south, toward Wailea, on South Kihei Road at a high speed and hit the sedan broadside near the driver's side door, police said.
The sedan, driven by Nicholas S.M. Thurston, 26, of Kihei, was traveling south, making a U-turn to head north toward Lahaina on South Kihei Road.
Thurston and his passenger, Mcallister Johnson, 26, of Westport, Wash., were wearing seat belts. They were taken to Maui Memorial Medical Center, where they were treated for minor injuries and released.
Police suspect speed and alcohol were involved in the crash.
This is Maui County's 14th traffic death this year, compared with eight at this time last year.
New fire scorches west Maui mountains
A brush fire burned 500 acres yesterday just west of last week's 4,000-acre fire in the west Maui mountains.
Jeff Murray, acting Maui Fire Department battalion chief, described yesterday's fire as "still burning and definitely not under control" at 9:30 p.m. yesterday.
The fire was reported at 11 a.m. yesterday and forced temporary closures of Honoapiilani Highway several times through the day, Murray said.
Yesterday's fire was a "brand new fire," not a re-ignition of the earlier blaze, Murray said. Winds of up to 50 mph made the work difficult, he said.
Forty-seven firefighters and three helicopters battled the fire yesterday between the highway tunnel and the Ukumehame area, he said. About 13 firefighters were expected to work through the night.
LEEWARD OAHU
5 injured in car crash on Fort Weaver Road
Five people were injured in a traffic collision at 4:19 a.m. yesterday at Fort Weaver and Kimopelekane roads, police reported.
A 1985 white Honda Prelude traveling south on Fort Weaver Road struck a brown 2001 Lincoln sedan making a left turn from Fort Weaver onto Kimopelekane, police reported.
The Honda, apparently traveling at a high speed, drove through the left-turn-only lane at Kimopelekane, then veered right, striking the Lincoln, police said.
The Honda driver, a 26-year-old Waianae man, was taken to Queen's Medical Center in serious condition. A front-seat female passenger in the Honda went to Queen's in critical condition.
The Lincoln driver, a 74-year-old Pearl City man, a passenger in the rear seat of that car and a female passenger in the rear seat of the Honda were taken to St. Francis Medical Center-Liliha, in critical condition, police said.
Police weren't sure if anyone was wearing seat belts. There were no airbags in the Honda and the Lincoln's airbags weren't deployed, police said.
Honolulu firefighters put out two brush fires
Honolulu firefighters fought two brush fires Friday, one on undeveloped property in the Kunia area and another in the Kapolei Business Park, according to the Fire Department.
The Kunia fire, covering a couple of acres along the side of the road, was reported at 12:18 p.m. and extinguished by 3:02 p.m. Three engines and two tankers responded to the alarm.
The brush fire in the Kapolei Business Park was reported at 2:27 p.m. and firemen with two engines and a tanker had it out by 3:17 p.m.