| | |
| --- | --- |
| | Newswatch |
---
Fence built to keep kids off Aiea bridge
Construction crews put up a 6-foot fence yesterday, blocking off the partially demolished pedestrian overpass in Aiea that was damaged Tuesday by an Army tractor-trailer with an oversize load, said Scott Ishikawa, state Department of Transportation spokesman.
The fencing is expected to prevent children from playing on or near the entrance of the bridge.
After shutting down the H-1 freeway because of the accident, the state welded the bridge's metal railings to the entrance, blocking access to the overpass, but after noticing children playing on the rails, officials decided further safety measures were needed, Ishikawa said.
"We noticed kids playing on the Alvah Scott (Elementary) side of the rail," Ishikawa said.
Special-duty police officers working at the site until further notice will deter children from playing in the area.
State officials asked all Aiea-area schools again today to remind students not to loiter near the walkway.
"We're asking for the parents' help," Ishikawa said, "to tell kids to stay away."
Isles to receive federal funding
Honolulu will receive a $3 million federal transportation grant to buy 18 buses, and the state will receive $11 million in federal funds to upgrade transportation infrastructure.
U.S. Sens. Daniel Inouye and Daniel Akaka announced that the major part of the state funding is for $4.8 million for improvements to the Manele Small Boat Harbor on Lanai.
The city will get an additional $3.14 million for bus maintenance.
Buyer is found for troubled insurer
State Insurance Commissioner J.P. Schmidt has found a buyer for troubled Hawaiian Insurance & Guaranty Co., the state's fourth-largest homeowners insurance company.
On Aug. 21, Schmidt took control of the company to protect policyholders, creditors and the public.
He said he would not disclose the name of the buyer until sometime next week.
Today's walk for lupus canceled
A walk planned today by the Lupus Foundation of America Hawaii Chapter at Kapiolani Park was canceled suddenly yesterday after sponsors found they could not meet requirements for a 24-hour guard at a tent.
Cheryl Ann Jong, Hawaii Chapter president, said the tent company required a guard with the tent. The city parks department also notified her yesterday morning that a guard was necessary for a tent on city property.
She said someone would have been needed from noon yesterday to noon today, a requirement she could not meet.
She said another walk would be scheduled soon in the evening.
Maui LifeFest offers health lectures
Dr. Andrew Weil, world-renowned leader in integrative medicine, will discuss the importance of "Healthy Aging" in a keynote lecture tomorrow at the third annual LifeFest Kapalua on Maui.
Tim Sanders, author and leadership coach, was to address the health and wellness conferees today on the importance of "The Likeability Factor."
He wrote the best-seller "Love Is the Killer App: How to Win Business and Influence Friends."
Today and tomorrow, Renee Loux, author and raw-foods "chef to the stars," will demonstrate meals made from organic products in her "Living Cuisine & the Balanced Plate" and "Green Kitchen, Green Home" workshops.
For more information, call 866-669-244 or visit www.kapalua.com.
---
TRUCK AND TRAIN COLLIDE
ON MAUI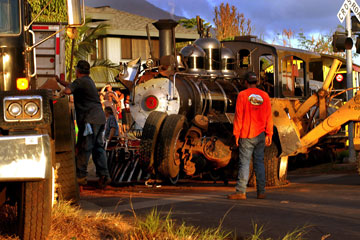 | | |
| --- | --- |
| | Police, Fire, Courts |
---
NEIGHBOR ISLANDS
Big Island police seek escaped suspect
Big Island police are looking for a 36-year-old man who escaped from police custody Wednesday in Hakalau.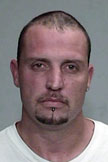 Police arrested Konrad Ross at 5:45 p.m. Wednesday on a warrant for violating terms of release on bail.
While North Hilo police were transferring him to South Hilo police, Ross freed himself from hard plastic restraints and escaped shortly after 8 p.m., police said.
South Hilo officers were going to take Ross to the Hilo police cellblock.
Ross is described as 6 feet 7 inches tall, about 240 pounds, with sandy-colored hair and hazel eyes. He was last seen wearing a mustard-color shirt and possibly swim shorts.
Anyone with information is asked to call Detective Gregory Esteban at 961-2384 or the nonemergency number at 935-3311.
Anonymous calls may be made to CrimeStoppers at 961-8300 in Hilo or 329-8181 in Kona.
WEST OAHU
Man held in assault on his ex-girlfriend
A 42-year-old Waimanalo man was arrested yesterday for allegedly beating his ex-girlfriend Wednesday in Ewa Beach.
Police said the 24-year-old Ewa Beach woman reported that her ex-boyfriend had beaten her, broken her nose and given her two black eyes and numerous bruises on her arms and face at 3 a.m. Wednesday.
The woman also told police he had an AK-47 assault rifle in his possession, but it was never found, police said.
A police crime-reduction unit located the man at his Waimanalo home at 41-723 Mekia St. and surrounded the home at 8:23 a.m. yesterday. Police found the man and woman back together.
The man was arrested on suspicion of second-degree assault and first-degree terroristic threatening.
COURTS
3 charged in Waianae beating death appear in court
Three men accused of beating a Waianae man to death over a road-rage incident made an initial appearance in Honolulu District Court yesterday.
Lugavai Momoe, Dillon Lepolo and Julius Mitchell are being held in lieu of $100,000 bail after they were charged with second-degree murder in connection with the Sept. 1 death of Roger Haudenshild.
Haudenshild was involved in an altercation with Lepolo near Farrington Highway and Old Government Road that escalated into a fight. Others broke up the fight, but Lepolo allegedly told Haudenshild that he was going to pick up his friends and come back to kill him.
Lepolo and two of his friends allegedly caught up with Haudenshild at Waianae Market and attacked him. Witnesses saw the three men punching, kicking and stomping on Haudenshild's head. When they finally stopped, the men allegedly told witnesses that they had better not say anything or they would be killed, too, court documents said.
Witnesses identified Lepolo and his two friends to police. All three turned themselves in to police.
Death penalty sought for dad in child killing
Federal prosecutors filed notice that they will seek the death penalty against Schofield soldier Naeem Williams, accused of beating his 5-year-old daughter to death in July 2005.
Williams was indicted in U.S. District Court on Feb. 15 with first-degree murder. He is accused of beating Talia Emoni Williams twice the day she died because she had soiled herself, according to court records. The second time, the girl struck her head on the floor and lost consciousness, the girl's stepmother, Delilah Williams, told officials.
The couple allegedly delayed calling for help because they feared that that police would take away their 4-month-old daughter.
Naeem Williams later admitted to officials he beat Talia almost every day with a belt or his fist to discipline her. An autopsy determined she died of battered-child syndrome.
Delilah Williams is also charged with first-degree murder in her stepdaughter's death. But the death penalty will not be sought in her case, U.S. Attorney Marshall Silverberg said.
Only one other person has faced the federal death penalty in Hawaii since the 1950s.
Richard "China" Chong avoided a death sentence in 2000 by agreeing to plead guilty to the 1997 murder of William Noa Jr. over a $100 drug debt.
Heroin possession nets man 5-year term
A Kailua man was sentenced Wednesday to 69 months in federal prison for conspiring to distribute and possess more than 100 grams of heroin, which he carried within 1,000 feet of a school.
Kevin Patrick Cash, 49, also must serve six years on supervised release upon his release from prison.
Cash was part of a conspiracy that transported heroin from Mexico to Hawaii in 2005. He allegedly was to distribute the heroin after it arrived in Hawaii via couriers.
Agents arrested him on May 29, 2005. During a search of his home, which is within 1,000 feet of Kailua Elementary School, officials found heroin, drug paraphernalia, firearms and ammunition.
Man gets 7 years for transporting 'ice'
A Pahoa man was sentenced to 86 months in federal prison for helping ship two pounds of methamphetamine being shipped from California to Hawaii.
The Wednesday sentencing for Shannon Ebanies, 28, wraps up the prosecution that also involved Bruce Kepa'a, 38, of Hilo, who was sentenced in May to 14 years' imprisonment.
According to prosecutors, Kepa'a gave Ebanies $18,000 to purchase drugs in California. Ebanies wrapped the drugs and had them mailed to his Big Island home before delivering them to Kepa'a. Ebanies was paid $5,000 and about 200 grams of "ice" by Kepa'a.
Ebanies was arrested Nov. 28 for traffic violations, but a search of his car uncovered 218 grams of ice.
California drug shipper gets 12-year sentence
A California man was sentenced Wednesday in U.S. District Court to 12 years and seven months in prison for conspiring to possess and distribute more than 50 grams of methamphetamine.
David Morga Herrera, 22, was part of a conspiracy that brought more five pounds of methamphetamine from California to Hawaii from May to November 2005.
Besides carrying "ice" on commercial flights from Los Angeles to Honolulu, Herrera also distributed meth on Oahu and returned to the mainland with the proceeds of his sales.
Herrera pleaded guilty in April. Because he was on probation for a prior drug conviction in California, he received a longer sentence.