---
FAST FACTS HAWAII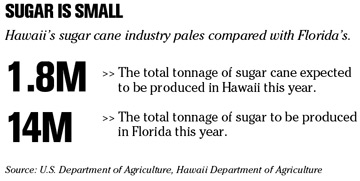 ---
NATION
H&R Block getting into bank services
NEW YORK »
H&R Block Inc.
, best known for its tax preparation services, is expanding into banking.
The company, based in Kansas City, Mo., planned to announce at its annual meeting today it will begin offering bank accounts to customers who need them so they can take advantage of direct deposit of their tax refunds.
The H&R Block Emerald Account will be linked to a prepaid bank card so that account holders can access their money easily via automated teller machines, or ATMs. The company also was announcing creation of high-yielding savings accounts and Individual Retirement Accounts; reduced fees in its refund-anticipation loan program; and improvements in its education and advice reports.
Tower expects up to 5 bidders
WILMINGTON, Del. »
Tower Records
expects three, four or five prospective buyers to make it to the final round of bidding at a two-stage bankruptcy auction, the attorney running the sale said Wednesday.
Peter Gurfein was in court in Delaware, where the music retailer filed for its second bankruptcy in recent years, seeking approval of rules for a planned Oct. 5 auction.
Sacramento, Calif.-based Tower Records expects to name a lead bidder for the second round by Sept. 13, at the conclusion of the first round of bid qualifications, Gurfein said.
If approved, the auction plan would establish a second phase of bidding on Sept. 26, kicked off by the designated lead bidder, or "stalking-horse," which will set the floor price.
Court OKs Time Warner settlement
Time Warner Inc.
, the world's largest media company, won approval of a settlement of an investor lawsuit that a judge said will require the company to make changes in how it governs itself.
U.S. District Judge Shirley Wohl Kram today gave final approval to the settlement of a 2002 suit that claimed the directors of Time Warner Inc. predecessors America Online Inc. and AOL Time Warner Inc. knew employees were violating accounting rules. The so-called derivative suit was filed against officers and directors on behalf of Time Warner by investors.
Under the settlement, New York-based Time Warner agreed to designate an independent director as chairperson of its nominating and governance committee. Within three years, two- thirds of the company's directors will be independent under the terms of the settlement.
Nasdaq plans to jump into the options business
NEW YORK » The Nasdaq Stock Market said today it plans to enter the crowded options-trading business with the creation of an equity and index options market.
Nasdaq said in a statement that it hopes to capitalize on its December acquisition of the Inet electronic trading platform as well a regulatory push for options to trade in increments of pennies instead of nickels and dimes.
Nasdaq plans to introduce the automated market in the third quarter of 2007 pending approval from the Securities and Exchange Commission. Trading options in pennies would require enormous amounts of computing capacity.
---
BUSINESS PULSE