---
FAST FACTS HAWAII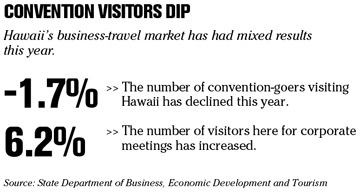 ---
HAWAII
Auction does the trick for Colony Surf condo
The Colony Surf condominium unit auctioned by
Abe Lee Realty
has been sold. The selling price: $1 million plus $20,000.
The auction, held Sunday, brought about 10 potential buyers, according to Abe Lee. Only two put forth a bid, and $1,020,000 in cash -- from a buyer in Nantucket, Mass. -- was the highest and final offer.
The 900-square-foot condominium on the Gold Coast of Waikiki was on auction for a starting price of $1 million.
Some Realtors had doubts about using an auction to sell a property in Hawaii -- several have tried the format for larger homes and estates here, with no luck.
But Lee said after this sale, he would hold a real estate auction again. "It has to be the right unit and the right price," said Lee.
Proceeds from the sale will go to charity, according to the wishes of late Star-Bulletin food editor Harriett Jean "'Rusty" Thomas. Thomas died in 2004, and had lived in the condominium with her late husband, Ernest Thomas, since 1961. He died in February 2003.
Office Depot offers HP doorbuster
Office Depot Inc.
, the world's second-largest office-supplies retailer, started selling
Hewlett- Packard Co.
computers for about $100 each to create store traffic after missing analysts' estimates for sales growth last quarter.
In-store customers get a $100 instant discount, four mail-in rebates and must pay $99 in shipping for the computer, which comes with a monitor and printer, the Delray Beach, Fla., company said. The Hewlett-Packard Pavilion desktop computer usually costs about $430, according to Office Depot's Web site.
"This is known in the industry as a doorbuster," Sanford C. Bernstein & Co.'s Colin McGranahan said in an interview. "It's trying to drive traffic to the store." The analyst rates the stock "outperform" and said he doesn't own it.
NATION / WORLD
Options scandal may cost millions
WASHINGTON » A new study estimates that the stock options backdating scandal may cost shareholders hundreds of millions of dollars. The study was released on the eve of two Senate committee hearings that plan to examine the scope of the widening investigation into improper options practices.
Three researchers at the University of Michigan estimated that backdating stock options between 2000 and 2004 helped sweeten the average executive's pay by more than 1.25 percent, or about $600,000. But the fallout from the recent options investigations has caused those executives' companies to fall in market value by an average of 8 percent, or $500 million each.
"For about $600,000 a year to the executives, shareholders are being put at risk to the tune of $500 million," the study concludes.
Feds seize hordes of fake Nikes
TUCSON, Ariz. » Federal agents have seized thousands of pairs of fake Nike sneakers and charged six men in what is being called one of the largest smuggling rings in recent history.
The alleged plot involved 15 sea cargo containers holding about 135,000 pairs of counterfeit Nike Air Jordans, with a retail value of $16 million. In all, the ring is believed to have shipped 82 containers of counterfeit shoes and athletic clothing into the country, authorities said yesterday.
"We approximate that the value of the total amount seized could potentially reach $86 million," said Roberto Medina, special agent in charge of U.S. Immigration and Customs Enforcement's office of investigations in Arizona.
Silicon Valley wireless project advances
SAN JOSE, Calif. » A proposal to blanket 1,500 square miles of Silicon Valley with affordable wireless access to the Internet stepped closer to reality yesterday after a joint task force selected Silicon Valley Metro Connect to build and operate the network.
Metro Connect, a tech consortium that includes Cisco Systems Inc. and IBM Corp., said it secured the winning bid from the Wireless Silicon Valley Task Force.
Further approvals by individual municipalities still need to be worked out, however, before the wireless network aimed to serve the region's 2.4 million residents gets built.
Dozens of other communities across the United States, including the city of San Francisco, also are planning similar public wireless networks, but the Silicon Valley project would be one of the largest in scope.
Google to offer search of print archives
SAN FRANCISCO »
Google
plans to announce today that it is offering a service that will permit Internet users to search through the archives of newspapers, magazines and other publications and uncover material that in some cases dates back more than 200 years.
The new feature, to be named Google News Archive Search, will direct Google searchers to both paid and free digital content on publishers' Web sites, but will not directly generate revenue for Google.
Partners include the Wall Street Journal, New York Times, Washington Post, Time, Guardian Unlimited, Factiva and Lexis-Nexis. In contrast to Google's book scanning project, which has led to copyright skirmishes, some of the partners said they had been pressing Google to offer access to their archives for several years.
---
BUSINESS PULSE