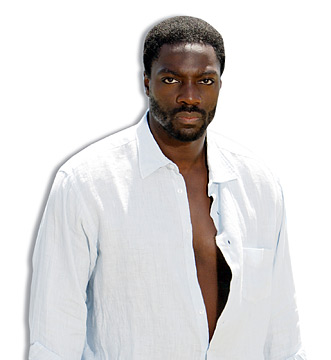 ABC
Adewale Akinnuoye-Agbaje plays Mr. Eko on ABC's hit TV series "Lost."
'Lost' actor arrested for traffic violation
At least 6 cast members from the hit ABC series have been cited for violations, mostly speeding
Police arrested Adewale Akinnuoye-Agbaje, who plays Mr. Eko on the ABC television series "Lost," in Waikiki early Saturday morning for a traffic violation.
The arrest for disobeying a police officer and driving without a license occurred at 2:25 a.m. on Kanekapolei Street and Kuhio Avenue, according to police records.
Akinnuoye-Agbaje, 39, paid $500 bail and was released after spending a little more than six hours in jail.
He is the third "Lost" cast member to be arrested for traffic violations.
In November 2004, Michelle Rodriguez and Cynthia Watros were arrested for drunken driving.
Both pleaded guilty last year. Watros, who played Libby, had her license suspended for 90 days, paid a $312 fine, and was ordered to undergo an alcohol assessment and counseling.
Rodriguez, who had a previous drunken-driving conviction in Los Angeles and two speeding tickets in Honolulu, was sentenced to five days in jail and $357 in fines. She also spent a day in jail in California after her probation was revoked.
Rodriguez' character, Ana Lucia, was written out of the series.
At least six other "Lost" cast members have been cited, but not arrested, for traffic violations, mostly speeding.
According to traffic court records:
» Josh Lee Holloway, who plays Sawyer, paid $153 in fines for going 53 mph in a 35 mph zone on Sept. 21, 2005.
» Dominic Monaghan, who plays Charlie the rock musician, paid $172 in fines for a March 10, 2005, speeding ticket for going 78 mph in a 55 mph zone and fines of $152 for an Aug. 12, 2004, speeding ticket . Monaghan was also cited for driving without a valid license on March 10, but that citation was dismissed.
» Naveen Andrews, who plays Sayid, paid a $122 fine after a citation for driving 70 mph in a 45 mph zone on Oct. 15, 2004, and paid $232 after pleading no contest for speeding 70 mph in a 35 mph zone on March 9, 2005.
» Ian Joseph Somerhalder, who played Boone in the first season, paid $202 in fines after being pulled over in Kaneohe on March 2, 2005, for going 42 mph in a 25 mph zone.
» Christian Jason Bowman, who plays Steve, was fined $112 after he was pulled over going 53 mph in a 35 mph zone on May 5, 2005. After Bowman wrote a letter to the court, the citation was amended to 48 mph.
» Harold Perrineau Jr., who plays Michael, was ticketed for having no motor vehicle insurance and no safety check. The charge was dismissed after he provided proof of insurance.
Akinnuoye-Agbaje is scheduled for a District Court appearance on Sept. 26.
According to ABC.com, Akinnuoye-Agbaje has also appeared in a lead role on the movie "Get Rich or Die Tryin'" with Curtis "50 Cent" Jackson and has also appeared in "The Mummy Returns," "The Bourne Identity," "Ace Ventura: When Nature Calls" and "Congo."