---
FAST FACTS HAWAII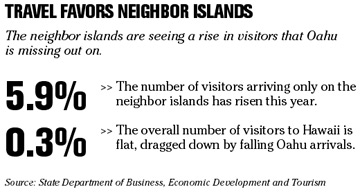 ---
NATION / WORLD
4 Chicago Hyatts reach labor deals
Hyatt Hotels Corp.
workers represented by two union locals reached a tentative contract agreement covering four hotels in the Chicago area.
The agreement covers 1,900 workers, Unite Here Locals 1 & 450 said yesterday in a statement distributed by Business Wire. The agreement, reached last night, affects Hyatt Regency Chicago, Hyatt Regency O'Hare, Hyatt Regency McCormick Place and Park Hyatt Chicago.
The union has been pushing for better wages and health insurance, a lighter workload and pensions. Hyatt is in the midst of a labor dispute in San Francisco where the company locked out workers at two properties in the fall of 2004 for about two months. Workers there have been without a contract since September 2004.
Matsushita recalls 6,000 batteries
TOKYO »
Matsushita Electric Industrial Co.
said today it has begun recalling 6,000 lithium-ion batteries used in
Panasonic
-brand notebook computers in Japan on concerns they might overheat.
The recall of the batteries for Let's Note CF-W4G notebook PCs only affects Japan, said company spokesman Akira Kadota.
Kadota said the batteries were not made by Sony Corp., whose faulty batteries were involved in far larger recalls by Dell Inc. and Apple Computer Inc. last month, but he declined to say who made the batteries, citing an agreement with the manufacturer.
Matsushita has started replacing batteries from the initial shipments of its Let's Note CF-W4G notebook PCs produced in April and May 2005 following two reported cases of trouble earlier this year, he said.
China bank plans huge IPO
BEIJING » China's biggest commercial bank plans to raise up to $19 billion with an initial public offering this year, possibly breaking the record for the world's biggest IPO, a news report said today.
Industrial & Commercial Bank of China Ltd. plans to sell shares simultaneously on the Hong Kong and Shanghai exchanges before the end of October, Dow Jones Newswires said, citing documents submitted to Chinese securities regulators.
An ICBC spokesman who would give only his surname, Xie, wouldn't confirm the report or give other information.
The China Banking Regulatory Commission said in July that ICBC was approved for an IPO but didn't say when or how large it would be. Phone calls to the commission weren't answered.
S&P warns of weak Asian credit
The increase in Asian government debt since the 1997 financial crisis is a concern because some nations' credit ratings still haven't recovered,
Standard & Poor's
said.
"Weaker sovereign credit profiles raise concerns that these sovereigns have reduced financial flexibility should a financial or banking crisis, however unlikely, eventuate," the report said.
The financial turmoil that followed the July 2, 1997, devaluation of the Thai baht plunged most of the region's economies into recession.
Six of 10 Asian governments tracked by S&P have lower credit ratings than before the crisis, S&P said. Only those of China and Hong Kong are stronger.
Daimler expects boom in China
DaimlerChrysler AG
, the first overseas company to make vehicles in China, expects industry wide demand for luxury cars in the world's third-largest auto market to more than double in the next three years.
Annual sales of luxury cars in China will rise to 400,000 vehicles in the next three years from the current 150,000, Ruediger Grube, DaimlerChrysler's management board member responsible for China, said today in Singapore.
DaimlerChrysler and Bayerische Motoren Werke AG are raising production in China, where rising incomes are boosting sales. The number of mainland citizens with a personal wealth of more than $1 million rose 6.8 percent to 320,000 last year, according to Merrill Lynch & Co.
Asia needs $1 trillion to sustain growth
Asian countries including Indonesia and the Philippines need about $1 trillion of spending over the next five years on infrastructure projects to sustain economic growth rates, the Asian Development Bank said.
"If regional economies want to sustain strong growth and spread its benefits to all citizens, they must invest even more into infrastructure" such as water and telecommunications, Lawrence Greenwood, the vice president of the Asian Development Bank, said in Hong Kong today.
Spending on roads, transport and communications contributed to higher-than-average growth rates in countries such as China, India, Singapore and Malaysia, Greenwood said.
In Vietnam, for example, maintaining an average growth rate of 7 percent to 9 percent would require investment of $2.5 billion a year in power generation, Greenwood said.
---
On assignment
Erika Engle is on assignment. TheBuzz will return tomorrow
---
BUSINESS PULSE