---
FAST FACTS HAWAII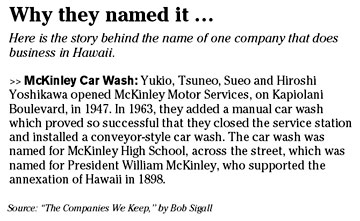 ---
NATION


Clorox offers to help clean classrooms

Classrooms are the No. 1 germiest workplace, and sick students are to blame, according to one study.

Classroom surfaces have the highest level of bacteria, University of Arizona researchers recently found. Those surfaces have nearly 20 times more bacteria than those found in lawyers' offices, and seven times more than in doctors' or TV producers' offices.

Most of the classroom germs come from sick kids who may be better off home in bed.

According to a new survey released by The Clorox Co., nearly two out of five parents said they've sent a sick child to school in the past year, while 14 percent have sent a child with a fever higher than 100 degrees.

But those parents who stayed home with their sick children also paid a price. Forty-five percent of parents missed up to six days of work last year to care for a sick child, and 36 percent lost wages.

Kids would rather do away with being sick than their homework, the survey also found.

The Clorox Co. polled 2,000 people for the survey. As a result, the company is donating Clean Up the Classroom kits to schools at www.cloroxclassrooms.com.
Research your potential employer
Before walking into your next interview, make sure you know more about the company than just its name and location.
The biggest mistake most interviewees make is having little to no knowledge of the company, 45 percent of senior executives said in a recent survey. Accountemps polled 150 senior executives in human resources, finance and marketing departments.
"The most successful applicants will have a beyond-the-basics understanding of the firm, including its history, chief competitors and business objectives," said Max Messmer, Accountemps chairman.
Messmer offers the following tips to bone up on the company:
» Check the company Web site for the company's mission and values, selection of products and services and recent press releases. If it's publicly traded, request an annual report from the investor relations department.
» Research the company's industry to find out market trends and industry-specific issues. Also, know the company's competitors and what they've been doing.
» Use people in your network to find out more about the company culture. These insights may be invaluable during the interview.
Younger consumers love plastic
Younger consumers would rather whip out plastic to pay for a coffee than cash, according to a recent survey from
Visa
.
Three out of five consumers ages 18 to 25 prefer using credit or debit cards to pay for purchases of less than $25, while 70 percent will use plastic for items worth less than $2. In comparison, only 26 percent of consumers 45 and older use plastic on such small purchases.
Younger consumers use plastic for movie tickets, fast food, video rentals and car washes. They're also more likely to pay with a debit card than other payment types, and use debit cards linked to a bank account to track expenses.
"This generation doesn't remember when ATMs and debit cards didn't exist," said Niki Manby, senior vice president of product innovation. "They want quick and easy access to their funds whether they are online or on the go."
Younger consumers also want to see more places accept credit or debit cards -- like vending machines, highway and bridge tolls, parking garages, taxis and public transportation.
Visa polled online 1,154 adult Americans who have a credit or debit card.
---
BUSINESS PULSE