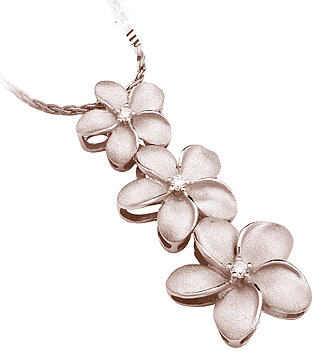 ILLUSTRATION COURTESY COSMOS JEWELRY LTD.
Plumeria dispute wins jeweler $2.3M
A judge makes an unusual ruling in a battle over design
Plumeria blooms are often treated as free, natural ornaments in Hawaii, picked from branches and stuck behind the ear like a gift from Mother Nature. But a federal judge in California has found that a Honolulu jeweler's design for plumeria jewelry is anything but free for the taking.
In what the lawyers for both sides described as an unusual decision, U.S. District Judge Consuelo Marshall has ordered a California jewelry maker to pay $2.3 million in damages to Denny Wong, owner of Cosmos Jewelry Ltd., which makes gold and silver jewelry using a distinctive stylized plumeria designed by Wong.
An attorney for defendant Po Sun Hon Co. said yesterday that he plans to seek to have the judge's ruling amended or to seek a new trial. Even if the judge's findings were correct, said Po Sun Hon's attorney John Yates, the judge erred in basing her award on all of Po Sun Hon's jewelry sales for four years, and not simply on profit from sales of plumeria designs.
"The judge clearly made a mistake there," said Yates, a lawyer with the firm of Berman, Mausner & Resser in Los Angeles.
In fact, Yates said, even if the plaintiffs were correct, the damages should have been about one hundredth what they were, or about $26,103. That, Yates said, was the amount of profit that Po Sun Hon made from the sale of the copycat plumeria jewelry.
Wong's lawyer, Rod Berman, said the judge had simply awarded Wong for infringement of an original design that had developed a following among tourists and locals who avidly collect Wong's pieces.
"Once in a while a jewelry designer will come up with something that just catches on, and this is one of those," said Berman, who is a lawyer with the firm of Jeffer, Mangels, Butler & Marmaro in Los Angeles.
One thing both attorneys agreed on is that the ruling was unusual because of the way Marshall reached her conclusion. At issue were the designs of the little flowers, made of yellow gold, whose petals were sandblasted to give the appearance of softness and whose edges were polished to accentuate the distinctive curl at the edge of the natural plumeria blossoms.
Although Po Sun Hon's plumeria were similar to Wong's copyrighted design, Marshall ruled that Po Sun Hon's design was different enough that it did not infringe on Wong's copyright.
Instead the judge ruled that Po Sun Hon had committed "trade dress" infringement. Trade dress refers generally to the total image and design of something. In ruling against Po Sun Hon, Marshall determined that the designs were enough like Wong's to create confusion in the marketplace.
Berman said the easiest example of trade dress would be Coca-Cola's distinctive bottle, which he pointed out almost anyone would recognize and associate with Coke. In a memorandum supporting her ruling, the judge wrote that the overall design of the knock-off plumeria bore such a resemblance to Wong's design that even some jewelry store owners had been confused.
Berman said he was not aware of any other jewelry design being protected under trade dress.
The ruling does not mean designers can't make any types of gold plumeria jewelry; it simply pertains to knock-offs of the Wong design.
The recent suit is not the first legal battle Wong has initiated to protect his flower from design pirates. An earlier federal suit against Hung's Jewelry Inc. was settled in 2002 after three years of litigation in Honolulu, Berman said.
Wong said he is pleased with the result of the Po Sun Hon case.
"We did what we had to do and prevailed in the end," he said.
But, he added, the campaign to protect his intellectual property isn't over.
"This is our second case now," he said. "But we still have people doing the same thing."