---
FAST FACTS HAWAII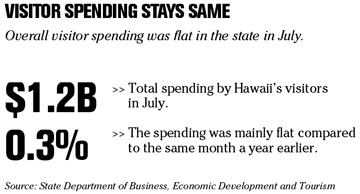 ---
HAWAII
Ex-Continental exec named chairman of Aloha Airlines
Aloha Airgroup Inc.
, the parent company of Aloha Airlines, yesterday named former
Continental Airlines Inc.
executive Gordon Bethune as its chairman.
Bethune replaces Ira Tochner, who remains on the Aloha board, according to Aloha spokesman Stu Glauberman.
David Banmiller, Aloha's president and chief executive officer, called Bethune "a dynamic industry leader with a proven track record of driving up customer, employee and company value."
Bethune joined Continental in 1994 as president and chief operating officer, becoming chairman in 1996. He retired from Continental, the nation's fifth largest airline, in December 2004, the same month Aloha filed for Chapter 11 bankruptcy protection. It emerged from bankruptcy in February.
Last March, Bethune was named chairman of the Travel Distribution Services division of Cendant Corp. Cendant recently sold the division to the Blackstone private-equity group as part of a reorganization plan that includes a reverse stock split and a change of name to Avis Budget Group Inc., effective tomorrow.
Bethune has ties to Aloha through Greg Brenneman, another former Continental executive who in late 2001 tried to organize a merger between Aloha and Hawaiian Airlines. During their time at Continental, Brenneman and Bethune were credited with turning around the then-ailing carrier.
NATION / WORLD
Coke picks new leader for North America
ATLANTA »
The Coca-Cola Co.
said yesterday it has named a new head of its key North America division to replace Donald Knauss, who is leaving the world's largest beverage maker to become CEO of bleach and cleaning products maker
Clorox
.
Atlanta-based Coca-Cola said it has named J. Alexander M. "Sandy" Douglas Jr. president of Coca-Cola North America to replace Knauss.
Company denies it sought help for Daiei
TOKYO »
Marubeni Corp.
, a Japanese import-export company, said yesterday it was open to strategic partners in operating supermarket chain
Daiei Inc.
, but denied news reports that it had approached either
Wal-Mart
or
Aeon Co.
, a Japanese retailer, to get help in reviving Daiei. Daiei also issued a statement denying the reports.
RadioShack fires 400 by e-mail
FORT WORTH, Texas »
RadioShack Corp.
notified about 400 workers by e-mail that they were being dismissed immediately as part of planned job cuts.
Employees at the Fort Worth headquarters got messages Tuesday morning saying: "The work force reduction notification is currently in progress. Unfortunately your position is one that has been eliminated."
Company officials had told employees in a series of meetings that layoff notices would be delivered electronically, spokeswoman Kay Jackson said. She said employees were invited to ask questions before Tuesday's notification on a company intranet site.
In other news ...
Hong Kong billionaire Li Ka-shing is donating $309 million worth of shares in
CK Life Sciences International (Holdings) Inc.
to his charity foundation, the Standard newspaper said, without citing anyone.
---
BUSINESS PULSE