---
FAST FACTS HAWAII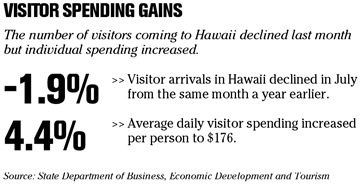 ---
HAWAII
Island Air will start flying Kona-Lihue
Island Air
on Tuesday will begin offering nonstop flights between Lihue, Kauai, and Kona on the Big Island, marking the first time any airline has offered a direct flight between those two destinations in more than 10 years.
The new route will allow passengers to avoid stopping in Honolulu or Maui. The Lihue-Kona flight will depart at 11:45 a.m. and arrive at 1 p.m. The Kona-Lihue return flight will depart at 1:25 p.m. and arrive at 2:40 p.m.
"Because this is a nonstop flight, Island Air will get you there faster than any other airline," Chief Operating Officer Les Murashige said. "Being a Kauai native, I am proud to have this great opportunity to help my hometown."
Island Air offers 103 daily flights in the islands.
Clearwire to sell at Longs on Oahu
When
Clearwire Wireless Broadband
rolls out its new wireless high-speed Internet service on Oahu later this month, the company hopes to make it as simple to buy as a pack of chewing gum at the corner drug store. Literally.
Clearwire plans to sell its service at 19 Longs Drug Store locations on Oahu starting tomorrow. Customers will be able to sign up at special kiosks and rent the book-sized, modem-like device needed to link to the Internet, said Mary Ann Carroll, a Clearwire spokeswoman.
Clearwire plans to begin selling its broadband service for $19.99 per month for the first three months of a one-year contract, followed by a fee of $36.99 per month for the next nine months. In addition, the company plans to charge a $4.99 per-month modem rental fee.
Airline to meet with Samoa Rep.
Hawaiian Airlines
has agreed to meet with U.S. Congressman Eni Faleomavaega of American Samoa to discuss his concerns over prices the carrier is charging on its routes between Pago Pago and Honolulu.
Hawaiian Chief Executive Mark Dunkerley has proposed meeting in Honolulu with Faleomavaega to respond to the congressman's questions after receiving a letter from him last week.
"Without question, American Samoa has no alternate air carrier in place and, therefore, it is in our best interest to hammer out our differences until we can find a solution that works for our people and Hawaiian Air," Faleomavaega said.
Hawaiian spokesman Keoni Wagner said he expected the meeting to take place "soon."
Last month, American Samoa Gov. Togiola Tulafong issued an executive order to expel the carrier from the U.S. territory. But the Federal Aviation Administration sent Tulafong a letter informing him that federal law prohibited him from taking such an action.
Hawaiian has since petitioned the U.S. Department of Transportation to rule on whether the governor's executive order was enforceable. That decision is still pending.
[HAWAII INC.]
PROMOTIONS
» The John A. Burns School of Medicine has appointed professors
Dr. Elizabeth Tam
and
Dr. Marjorie Mau
the first appointees to new endowed chairs. Tam's new chair is respiratory health. She also is chairwoman of the school's Department of Medicine. Mau is the new Myron P. Thompson endowed chair for research in native Hawaiian health. She also is chairwoman of the Department of Native Hawaiian Health.
» Bank of Hawaii has promoted three employees to senior vice president. Stephen A. Brock has been promoted to senior vice president and manager of the West Pacific Corporate Banking Group in Guam. Byron A. Hansen has been promoted to senior vice president and dealer commercial services manager. Galen T. Nakamura has been promoted to senior vice president and Hawaii Commercial Banking Center manager.
» Bank of Hawaii has announced promotions and additions to its senior staff. Dana S. Takushi has been promoted to senior vice president and manager, commercial credit underwriting and analysis. Takushi will oversee the analysis, underwriting, approval and portfolio management of credit originated by the bank's commercial banking, private banking and Pacific Islands divisions. Raymond G. Trombley has been promoted to senior vice president and manager, corporate business continuity, formerly known as corporate disaster preparedness. He will be responsible for execution and maintenance of the bank's companywide business continuity program to ensure effective emergency response, disaster recovery and business resumption in the event of a natural and manmade disasters. Robert J. Crowell has been appointed to head the Investment Products Division and serve as president of the Pacific Capital Funds. He previously held the position of executive vice president and manager of the Fixed Income Division. Stephen K. Rodgers has been promoted to senior vice president and manager of the Fixed Income Division. Rodgers also serves as manager of tax-free portfolios totaling approximately $1.5 billion.
» HMSA has promoted Paul K. Schnur and Suzie M. Shimizu. Schnur has been promoted to vice president of hospital network management and support. He will be responsible for contracting and support for HMSA participating facilities, including hospitals and ambulatory surgery centers, and will continue to oversee two HMSA subsidiaries, Integrated Services Inc. and Hawaii Family Medical Centers. Shimizu has been promoted to assistant vice president of customer relations. She was most recently HMSA's director of provider services.
NATION
Northwest, attendants still at odds
MINNEAPOLIS » A New York federal judge recommended last week that
Northwest Airlines
and its flight attendants return to the bargaining table. But they haven't heeded the judge's advice, because it's still unclear how the parties can craft a deal that attendants will ratify.
The two sides have not negotiated since flight attendants rejected a deal on July 31.
Both parties will report their lack of progress today to U.S. District Judge Victor Marrero, who issued a temporary injunction Friday that blocked Northwest attendants from conducting scattered strikes that could have begun just hours later.
Both sides continue to state publicly that they hope to reach a negotiated settlement.
---
BUSINESS PULSE