---
FAST FACTS HAWAII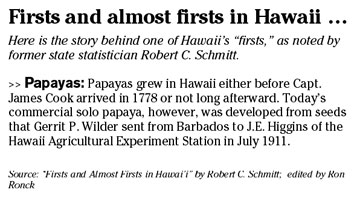 ---
HAWAII
Women leaders to talk at isle leadership event
Women leaders from Japan, Iraq, the Philippines, Hawaii and the mainland will speak tomorrow at the governor's third annual International Women's Leadership Conference, "Women With No Limits," at the Sheraton-Waikiki Hotel.
"This conference is all about inspiring and motivating Hawaii's women," Gov. Linda Lingle said. "It is an excellent opportunity to listen to, learn from, and personally meet and interact with these outstanding women leaders, while networking with peers."
Among the globally recognized women speaking are Karen P. Hughes, under secretary for diplomacy and public affairs at the U.S. Department of State; Zainab Al-Suwaij, executive director of the American Islamic Congress and a survivor of the failed 1991 uprising against Saddam Hussein; and Izumi Kobayashi, first woman president of Merrill Lynch Japan Securities Co.
They will be joined by Gov. Grace Padaca, Isabela Province, the Philippines; Dr. Amelou Benitez Reyes, president of Philippine Women's University, who was awarded the Outstanding Women in Nation's Service award; and Renée Amoore, the founder and president of The Amoore Group Inc., who serves as a motivational speaker, health-care advocate, and political adviser. Paige Hemmis, president and chief executive of Tuff Chix Inc. and designer on ABC's "Extreme Makeover: Home Edition," also will speak.
Local speakers will include Rear Adm. Sally Brice-O'Hara, U.S. Coast Guard. Brice-O'Hara is the first woman to head Coast Guard District 14, which includes Hawaii, Guam, American Samoa and the Northern Marianas. Other local speakers are Constance Lau, president and CEO of Hawaiian Electric Industries Inc.; and Vivian Aiona, wife of Lt. Gov. James "Duke" Aiona Jr. and an advocate of drug and alcohol abuse prevention.
Video presentations will feature Oprah Winfrey and Dr. Johnetta Cole, president of Bennett College.
The conference will begin with registration and a continental breakfast at 7:30 a.m. The meeting will follow from 8:30 a.m. to 4:30 p.m. An informal reception will be held after the last speaker.
Conference participants will have an opportunity to discuss global and local issues important to the advancement of women leaders, as well as share stories of success.
The event is open to the public. The cost, including continental breakfast, lunch, conference activities and the reception, is $175 per person or $150 per person for a table of 10 and $99 for full-time students. For more information, see www.iwlchi.org or call Lois Hamaguchi at 586-0081.
NATION
Tips on paying less to Uncle Sam
To celebrate National Payroll Week, which begins on Labor Day, make sure you -- and not just Uncle Sam -- are getting the most out of you hard-earned paycheck.
American workers contribute about $1.4 trillion, or 71 percent, of the U.S Treasury's annual revenue, according to Sam Kerch, senior tax research analyst at Symmetry Software, which specializes in payroll tax software. But Kerch offers some tips for you to get more bang from your buck.
» Taxes: Check your payroll regularly to make sure the ideal amount is deducted. While a large tax refund seems like a bonus, you're missing out on interest that your money could earn throughout the year.
» 401(k): Thirty-five million workers saved $1.7 trillion in 401(k) plans last year. You should be one of them. If you're worried about your take-home pay, use the 401(k) calculator at www.payroll-taxes.com/calculators.htm to see your paycheck after enrolling.
» HSAs: Health Savings Accounts allow employees to use pretax dollars for health expenses not covered by health insurance. Use these accounts to save for your kid's braces or a new pair of glasses. The money you don't use stays in an interest-bearing savings account until you need it again.
---
BUSINESS PULSE