| | |
| --- | --- |
| | In the Military |
---
TAKING CHARGE OF CUTTER RUSH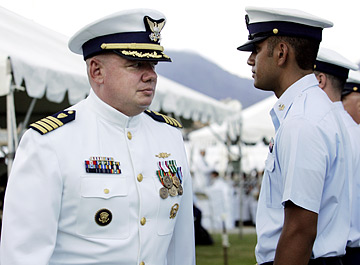 ---
Ceremony on Missouri to mark end of World War II
Lt. Gen. Daniel P. Leaf, deputy commander of the U.S. Pacific Command, will be the guest speaker at the 61st anniversary of the end of World War II on Sept. 2 on the fantail of the battleship USS Missouri. The theme of this year's ceremony, which will begin at 8:45 a.m., is "A Legacy of Honor."
Free trolley service will be available between 7:45 and 8:45 a.m. for people who do not have Department of Defense authorization to go to Ford Island. The free service to the Battleship Missouri Memorial will be available at the Missouri's trolley boarding station near the USS Bowfin Submarine Museum and Park. The trolley will also provide return transportation. For more information, please call 423-2263 and press 7 immediately following the greeting.
---
State Sen. Fred Hemmings and executive chief Russell Siu will be the keynote speakers at the 12th annual joint spouses conference, which will be held Oct. 20-21 at the Marine Corps Officers' Club at the Kaneohe Bay Marine Base. The conference is designed to educate active-duty, reserve and retired military members in their roles of spouses, parents, professionals and community leaders through workshops.
The two-day conference will feature 50 workshops ranging from Hawaiian culture and history to parenting skills. Registration will begin Sept. 8. The cost is $35 for both days and $30 for Friday or Saturday. For more information, visit jschawaii.com.
---
U.S. Sen. Daniel Inouye, a World War II 442nd Regimental Combat Team Medal of Honor recipient, was recognized by the Philippines during a recent visit for his military service and promotion of partnership between the two countries. Inouye was awarded the Congressional Medal of Achievement for his military service by House Speaker Jose de Venecia and the Outstanding Achievement Medal, the Philippines' highest award to foreign dignitaries, from Defense Secretary Avelino Cruz Jr. for championing Filipino veterans' rights.
Moving Up
Pearl Harbor
» Cmdr. Charles Cooper has assumed command of destroyer USS Russell, relieving Cmdr. James Kilby.
» Cmdr. Debra Bodenstedt has assumed command of Navy Munitions Command, East Asia Division, relieving Cmdr. Michael Donch III.
"In the Military" was compiled from wire reports and other sources by reporter
Gregg K. Kakesako
, who covers military affairs for the Star-Bulletin. He can be reached by phone at 294-4075 or by e-mail at
gkakesako@starbulletin.com
.