---
THE ARTS
George Helm in good company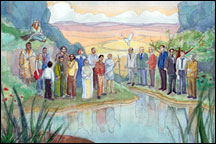 An image of Hawaii activist George Helm will be part of a painting commissioned to celebrate nonviolence and mark the anniversary of the death of the Rev. Martin Luther King Jr.
Intellevision in Laguna Beach, Calif., commissioned the painting, called "Satyagraba," a word coined by Gandhi that refers to firm resistance in nonviolence.
Intellevision Vice President Tim Leedom said the oil painting will include the images of 20 men and women of peace, including King, Gandhi, Helm, Medgar Evers, John Lennon, Anwar Sadat, Dag Hammarskjold, Yitzhak Rabin, John F. Kennedy, Abraham Lincoln and Robert F. Kennedy.