ANNABETH BLACK / 1946-2006
Staunch Bulletin supporter had love for adventure
Annabeth Black, the wife of Honolulu Star-Bulletin owner David Black and an active partner in the management of his newspaper empire, died Wednesday at their home in British Columbia. She was 59.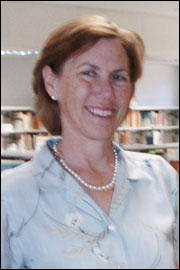 Black, who had been battling pancreatic cancer for about two years, was remembered yesterday as an adventurous person not afraid to roll up her sleeves alongside her husband, no more so than during the Star-Bulletin's bitter divorce from its former joint operating partner, the Honolulu Advertiser.
"She shared David's passion for the newspaper business and played a significant role in the launch of the Star-Bulletin when it separated from the joint operating agreement in 2001," said Dennis Francis, president and publisher of the Star-Bulletin and MidWeek.
"She worked many months ensuring the successful start-up of the Star-Bulletin and the daily operation of both publications," he said. "She had a lot of aloha for Oahu and the 450 employees of the Star-Bulletin and MidWeek. She certainly will be missed."
David Black was known to quote his wife frequently and, in 2000, shortly after buying the Star-Bulletin, told the paper he was "very, very lucky" to have found her.
She is survived by her husband, sons Alan and Fraser, and daughters Morgan Weathington and Catherine Black. She also leaves behind seven brothers and sisters, and her parents, Paul and Bette Cote.
Born Anne Elizabeth Cote in 1946, the eldest of eight children, she married David Black 36 years ago and helped him build and run Black Press, according to a company statement. The company now owns about 115 newspapers in western Canada, Washington state, Ohio and Hawaii.
Close friend Lynn Watanabe remembers Black as an avid florist who introduced her to gliding at Dillingham Airfield and leaping into the icy waters off British Columbia.
"She was the most adventurous person I ever met, and I was always willing to follow her lead. She was so full of life," said Watanabe, whose husband, Jeffrey, is an investor in the Star-Bulletin.
She also recalled how Black helped answer phones, arrange furniture and perform other tasks during the relocation of the newspaper's headquarters in 2001.
"Annabeth always had a keen interest in the Star-Bulletin," said Editor Frank Bridgewater. "Every time she came to town, we would meet to talk about what we were working on. Then she would pull out her ideas list and other papers, and we would talk some more. Annabeth provided a unique and valuable perspective, and I will miss that."
A memorial is scheduled for 2 p.m. Sept. 6 at St. Patrick's Parish in Victoria, British Columbia. In lieu of flowers, mourners are asked to send donations to Victoria Hospice, 1510 Fort St., Victoria, B.C., Canada, V8S-5J2; or to their local Hospice organization.