Elderly man is killed in Kalihi hit-and-run
He was hit by a van on a faded crosswalk he used every day
Every day, Thomas Laikupu crossed busy North King Street to get refreshments, his daughter-in-law, Melody Rosa, said.
Early yesterday at the same faded crosswalk that he always used, a van struck the 75-year-old Laikupu, who later died.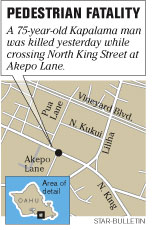 Police said Laikupu was crossing North King Street toward Mayor Wright Housing at 12:09 a.m. when the van hit him and left the scene. An ambulance took Laikupu to the Queen's Medical Center, where he was pronounced dead.
Witnesses told police the van was speeding. Police are looking for an older model, light-color van with possible front-end damage. "Cracked headlights and turn-signal lights," said Capt. Frank Fujii, Honolulu Police Department spokesman.
Laikupu was using an old crosswalk, just east of Akepo Lane, that had been painted over and is no longer in service.
City Department of Facility Maintenance Director Laverne Higa said the sidewalk was painted over in September 2004 per a work order from the Department of Transportation Services. Transportation engineers ordered it closed after receiving a complaint about its safety.
Rosa said the other crosswalks were too far away. "It's like a habit: You cross the same place," she said.
"The dad crosses the street every day in the same spot. Most of the people in that building eat across the street, so they all cross over there," Rosa said.
Laikupu worked as a diver in his younger years and helped build the reef runway at the Honolulu Airport, Rosa said. After retiring, he worked as a lifeguard at the Natatorium.
Got info?
Anyone who might have witnessed the crash or seen the van leaving the area is asked to call the HPD Traffic Investigation Division at 529-3499.
"He's so friendly, like he just attracts people. Every day, you would see him walking with a different person, and you're not worried that he would get hurt," Rosa said.
Originally from the Big Island, Laikupu came to Oahu in his early 20s and lived half his life in Waianae. He had lived on the ground floor of Island West Apartments, 607 N. King St., for five years, Rosa said.
"He liked to live on his own. He liked the downtown area; he liked the action down there," she said.
Laikupu used a cane of milo wood that a friend from Waikiki had carved for him, Rosa said.
Laikupu's three grandchildren, ages 2 to 4, called him Papa Kupu.
"One of them never like go school this morning. He was throwing a tantrum. He wanted to go see the grandpa," Rosa said.
He is also survived by a son, Thomas. The family plans to scatter Laikupu's ashes at the Natatorium. Services are still being planned.