---
FAST FACTS HAWAII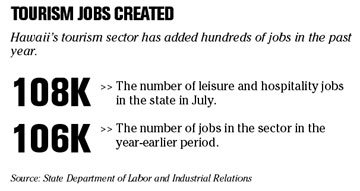 ---
HOKU TAKES BIG STEP FORWARD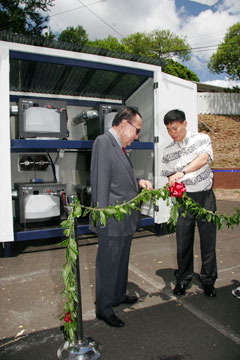 NATION
Ex-HealthSouth CEO must give back $47.8M in bonuses
BIRMINGHAM, Ala. » Fired
HealthSouth Corp.
CEO Richard Scrushy must repay $47.8 million in bonuses he wrongly received during a massive financial fraud at the rehabilitation and medical services chain, the Alabama Supreme Court ruled yesterday.
The court unanimously upheld a lower court order that sided with a shareholder who sued Scrushy claiming the HealthSouth chief received the bonuses improperly as the scandal secretly engulfed the company for seven years beginning in 1996.
Ruling for the first time on the legal claims in the case, the justices rejected Scrushy's arguments that he was due to keep the money even though HealthSouth lost millions during the period when it was reporting profit.
The court previously ruled against Scrushy on a procedural point in the case.
Scrushy was acquitted of all charges in the $2.7 billion fraud at HealthSouth, but he faces a possible federal prison sentence after being convicted in a separate state bribery scheme involving his tenure at HealthSouth.
Rubin steps down from Ford board
DEARBORN, Mich. » Robert E. Rubin, the former Treasury secretary and currently a
Citigroup
executive, has stepped down as a director of
Ford Motor
, clearing the way for his investment bank to play a more significant role as Ford makes key decisions about its restructuring.
Rubin, a director and chairman of the executive committee at Citigroup, said in a letter released yesterday that he wanted to avoid any potential conflicts that could be raised by his presence on Ford's board, which he joined six years ago.
It came as Ford's chief executive, William Clay Ford Jr., is pondering a wide variety of steps that are aimed at reversing Ford's losses, resizing the company and enabling it to withstand brutal industry competition.
Exec accused of shielding assets
NEW HAVEN, Conn. >>
Cendant Corp.
accused former Vice Chairman E. Kirk Shelton of lavish spending and delaying tactics to shield his assets after he was ordered to pay $3.27 billion restitution for an accounting scandal.
Shelton was sentenced last year to 10 years prison after being convicted of conspiracy and fraud. He was ordered to pay $3.27 billion restitution to Cendant, including a balloon payment of $15 million and monthly installments of $2,000 after he is released from prison.
Prosecutors said Shelton inflated revenue by $500 million at Cendant's predecessor, CUC International, to drive up the stock price. The fraud was reported in 1998, causing Cendant's market value to drop by $14 billion in one day.
To fulfill the balloon payment, Shelton delivered cash, company stock and company-funded life insurance policies, a combination that Cendant said is at least $2.4 million short and fluctuates daily.
Union agrees to no wage increases
SEATTLE » The Seattle Times and its largest union have tentatively agreed on a new, two-year contract that calls for no across-the-board wage increases, the newspaper reported.
But Liz Brown, the Pacific Northwest Newspaper Guild's administrative officer, said the union's nine-member negotiating committee was "strongly divided" on the proposal, and that some might not recommend members ratify it.
"It's a very difficult time to negotiate," Brown said, according to a report in the paper. "The company says it's losing money."
Historic Chicago store closing because of falling business
CHICAGO » The owner of the Carson Pirie Scott department store announced yesterday that it is closing the historic store because of a drop in sales and rise in operating costs.
The store is located in a building designated a National Historic Landmark and designed by famed architect Louis H. Sullivan in the late 19th century.
In a news release, York, Pa.-based Bon-Ton Stores Inc. said that the store would close in March of next year.
"We are very proud of Carson Pirie Scott's rich tradition in Chicago -- a tradition that has prospered for more than 150 years ... " Bud Bergren, Bon-Ton's president and CEO said in a statement. "Unfortunately, this facility is more than 100 years old and no longer supports our efforts to provide quality customer service by giving our customers a modern, fresh shopping experience."
The store was originally built in 1898-1899. There have been additions over the years, including a 12-story south addition in 1905-1906. According to the city's department of planning and development Web site, the store is "one of the most important structures in early modern architecture, famed for its influential modular construction and design."
WORLD
Sony shares fall after recalls of power cells
Shares of
Sony Corp.
, the world's second-largest maker of rechargeable batteries, fell to the lowest in a month after
Apple Computer Inc.
followed
Dell Inc.
in recalling power cells that may burst into flames.
Sony's American depositary receipts declined in New York Stock Exchange composite trading after the Tokyo-based company said the recalls of lithium-ion batteries will cost it as much as $257 million.
Apple's request for the return of 1.8 million batteries took the total number recalled to almost 6 million, the largest in the consumer-electronics industry. The decision may be a setback for Sony, which is counting on sales of Vaio personal computers and Bravia televisions to drive earnings growth this year. Sony said it doesn't anticipate further recalls of the batteries.
"This problem will probably end here and they will only see a one-time charge for it," said Mitsuhiro Osawa, an analyst with Mizuho Investors Securities Co. in Tokyo. "I don't see much further downside for the shares."
The receipts fell 10 cents to $43.16 in New York.
Motorola won't seek compensation for phones
MOSCOW » The head of
Motorola Inc.
's Russian division said yesterday the world's No. 2 handset-maker will not seek compensation for the destruction of its mobile phones worth $2 million after a murky five-month contraband case was finally closed this month.
Russian police confiscated tens of thousands of the mobile phones in March, saying they had been brought into the country illegally. The case was closed this month, and the phones have been returned, the company said -- with the exception of about 50,000 handsets that police destroyed in April, saying the phones presented a health hazard.
The case has been cited by investors as an example of apparent corruption and meddling by authorities.
---
BUSINESS PULSE