OPPONENTS
Boilermakers: Building off of last year
Purdue suffered its first losing season in nine years in 2005, finishing at 5-6. But the Boilermakers made a nice run at the end, winning their last three Big Ten games behind quarterback Curtis Painter.
Purdue
Nov. 25
6:05 p.m.
Aloha Stadium
Painter, a junior this year, is multi-talented. In addition to passing for 932 yards and three touchdowns in his limited action, he rushed for 231 yards and five TDs.
Painter is among 40 returning lettermen and 11 starters.
Point of Interest: Hawaii and Purdue play each other in football for the first time this year. UH has won two of its last four games against Big Ten opponents.
Tour Guide: Purdue junior RB Dario Camacho is the twin brother of Chris Camacho, who briefly attended fall camp with UH.
Landmarks: If you ever find your self in West Lafayette, Ind., sneak into a student dining room at Purdue for a meal. The school recently received a national award for its food facilities. ... The Tippecanoe Battlefield is where Tecumseh's dream of a unified Indian nation was crushed by future president William H. Harrison's riflemen.

---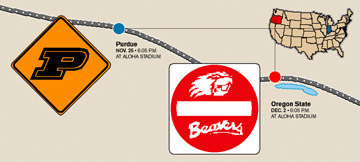 ---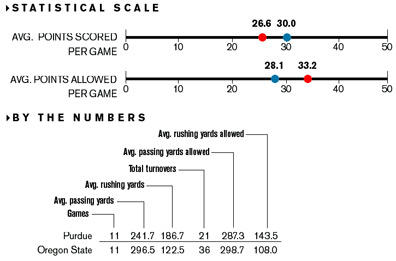 Beavers: Cavanaugh's got everybody back on the O-line
Tight end Joe Newton caught no passes last year, but he might be Oregon State's best player this year. The 6-foot-7 256-pounder missed the entire 2005 season (when OSU went 5-6) with a leg injury. In 2004, he caught 56 passes to lead all Pac-10 tight ends.
Oregon State
Dec. 2
6:05 p.m.
Aloha Stadium
He's also an extension of a big-time offensive line that includes sophomore Jeremy Perry from Kahuku, who was a freshman All-American, and four other returning starters.
They are coached by Mike Cavanaugh, who produced five NFL draftees in six years at Hawaii before moving on to Oregon State last year.
Point of Interest: This is the first time the teams are playing each other in Corvallis. OSU won the first three times in Hawaii, but UH won the last two, including a 23-17 victory in the 1999 Oahu Bowl, completing Hawaii's turnaround in June Jones' first season from a winless 1998.
Tour Guide: Nine players from Hawaii high schools are on the Oregon State roster.
Landmarks: The Warriors are headed to Corvallis in the near future, so maybe you'll visit. If you need a sushi fix, Aomatsu Japanese Restaurant is supposed to be good. ... Microbreweries are big here. They include the Oregon Trail Brewery and McMenamins.