OPPONENTS
Bulldogs: Warning: Watch 'Dogs on Duty
Fresno State returns 19 starters, including receiver Paul Williams and center Kyle Young, both All-WAC performers.
Fresno State
Oct. 14
11:05 A.m.
Bulldog Stadium
But the Bulldogs lose some key components from last year's 8-5 team, including Paul Pinegar, a 4-year starter at quarterback.
Point of Interest: In 2002, the Warriors won at Fresno, as Tim Chang led a fourth-quarter comeback in one of his best days as a UH quarterback. But the Warriors' next trip to Bulldog Stadium in 2004 resulted in a 70-14 loss -- UH's largest point-yield in 54 years.
Tour Guide: Martha Leina'ala Kuma heads up the Polynesian Club of Fresno.
Landmarks: The Elbow Room features great steaks and atmosphere. The Forestiere Underground Gardens provides a unique horticultural and architectural experience.

---

---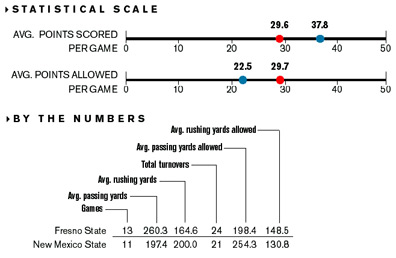 Aggies: Mumme's the word at NMSU, for now
The curse of being a football coach at a basketball school seems to have followed Hal Mumme from Kentucky.
New Mexico State
Oct. 21
2:05 p.m.
Aggie Memorial Stadium
Reggie Theus can do no wrong, and seems poised to bring a WAC title to Las Cruces. Meanwhile, the football team went 0-12 in 2005, Mumme's first and maybe second-to-last season.
Mumme hopes quarterback Chase Holbrook -- who came with him from Southeastern Louisiana -- can execute his wide-open passing system. The defense needs to improve, too, and it should under former Steelers guru Woody Widenhofer.
Point of Interest: Colt Brennan passed for 515 yards and seven TDs in UH's 49-29 win last year at Aloha Stadium. NMSU will have home field this time, but maybe that won't even matter. The Aggies were 0-6 there last year.
Tour Guide: Five players from Hawaii grace the Aggies roster, and former Kalani great and Steelers kicker Roy Gerela runs the special teams.
Landmarks: Nature lovers will want to go to the desert and take in the White Sands National Monument and brisket lovers should head toward El Paso for a taste of State Line Barbecue.