OPPONENTS
Panthers: On the prowl
Eastern Illinois shouldn't be discounted because it is a Division I-AA school. The Panthers were 9-3 last year and went 8-0 to win the Ohio Valley Conference title. They lost to Southern Illinois in the first round of the playoffs.
Eastern Illinois
Sept. 30
6:05 p.m.
Aloha Stadium
And EIU returns some studs on the defensive side of the ball.
OVC defensive player of the year Clint Sellers is back to wreak havoc from his linebacker position. He was in on 121 tackles last fall. Another linebacker, Lucius Seymour, returns after 115 tackles in 2005.
Point of Interest: The Panthers should always be remembered by Hawaii fans fondly for what occured on Sept. 11, 1999. UH ended a 19-game losing streak by beating EIU 31-27. The Warriors also pounded the Panthers 61-36 in 2002.
Landmarks: Lincoln-Douglas Debate Museum: One of their famous faceoffs was held in Charleston, home of EIU, and also where several of Honest Abe's kin lived. Guess he had the home-field advantage. ... Jimmy John's Gourmet Sandwich Shops: This is home of the first one in the franchise.

---

---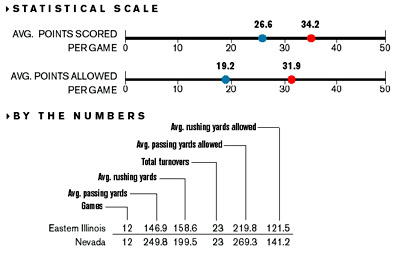 Wolfpack: Plenty of bullets left
Some folks chuckled when Nevada coach Chris Ault unveiled his new "pistol" offense last year. By the end of the season, Nevada got the last laugh.
Nevada
Oct. 7
6:05 p.m.
Aloha Stadium
With quarterback Jeff Rowe halfway between under center and shotgun formation, the Wolf Pack finished 9-3 and tied for the WAC championship with Boise State. Nevada went on to win the Hawaii Bowl.
Ault sees no reason to change, with Rowe back in the fold and Robert Hubbard available to pick up the slack for graduated running back B.J. Mitchell.
Point of Interest: The Hawaii Bowl victory over Central Florida was Nevada's first win at Aloha Stadium. Ault noted how it was a confidence-builder for 2006, considering that his team is scheduled to play Hawaii at Halawa.
Tour Guide: All-WAC receiver Caleb Spencer is a Kamehameha graduate. And he's finally a senior.
Landmarks: Silver Legacy is the resort casino of choice and there's always a big-name show. The Peppermill started out as a coffeehouse and expanded into a casino and hotel. The chow's still the main attraction.

Disarming The Pistol:
UH outgained Nevada by 21 yards in the Wolf Pack's 38-28 win last year. The difference was turnovers. The Warriors had two leading to Pack scores and Nevada committed none.