OPPONENTS
Crimson Tide: Run, Kenneth, run
Hawaii will find out right away if it can stop a good running game.
Alabama
Sept. 2
1:07 p.m.
Bryant-Denny Stadium
Alabama (10-2 last season) senior Kenneth Darby already has back-to-back 1,000-yard rushing seasons. In 2005, he rumbled for 1,242 yards, the sixth-best single-season mark in Tide history. Darby enters his senior season 1,077 yards away from breaking Shaun Alexander's (1996-99) school career rushing record of 3,565 yards.
The Tide defense is led by first-team SEC preseason defensive back Ramzee Robinson. He is Alabama's lone returnee in the secondary.
Point Of Interest: Bryant-Denny Stadium underwent an expansion project, bringing capacity up to 92,238. The Crimson Tide are 185-32-3 all-time at the stadium, and have boasted sellouts at 56 consecutive Tuscaloosa games since 1988. This will be the largest crowd Hawaii has ever played in front of, and it won't be friendly.
Tour Guide: Kaiser High School graduate Peter Kim kicked for Hawaii and then Alabama. He credits coach Bear Bryant for his success as a millionaire businessman.
Landmarks: Dreamland BBQ: Seven locations in Georgia and Alabama, including Tuscaloosa. You'll get arguments from some corners, but these might be the best ribs in the world. Paul W. Bryant Museum: A man who piled up 323 wins while wearing a very cool hat is worth learning more about.

---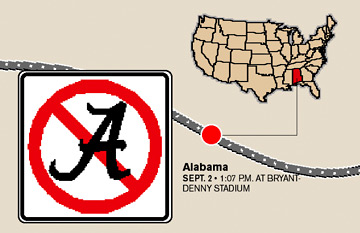 ---