SPECIAL TEAMS (ST)
McKnight and new players should kick it up a notch
There's no way to sugarcoat it. Special teams for Hawaii were bad last year. They simply cost the Warriors at least one game.
And it wasn't just any game -- three big kicking-game blunders cost the Warriors a victory against four-time Western Athletic Conference champion Boise State.
Coach June Jones addressed that problem with, of all things, a graduate-assistant hiring. Dennis McKnight coached the UH special teams in 1999 and 2000. They weren't perfect, but they were a lot better than last year's.
A handful of hungry and athletic newcomers should also mean improved coverage and better return teams.
C.J. Hawthorne excelled on special teams as a return man and kick blocker at Mississippi Gulf Coast College last year. Since he's atop the UH depth chart as a cornerback, Hawthorne might not be used on the teams. But after last year's breakdowns, don't be surprised to see starters on the field on kicking plays -- first-team receiver Ross Dickerson went into fall camp as coach June Jones' No. 1 choice as return man.
Kicker Dan Kelly, a true freshman last fall, matured as the season progressed. Defensive lineman Jake Ingram's primary job now is snapper.
Unit at a glance

---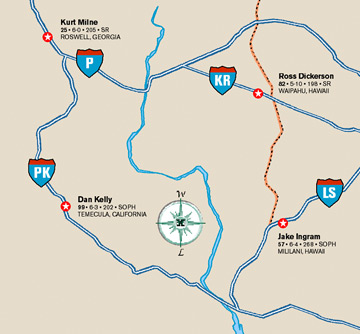 Milne's punts helped the Warriors stem the Tide in 2003
If Hawaii's offense lives up to its preseason hype, Kurt Milne will be on the field much more as a holder than a punter.
As Milne heads into his fourth year as a starter, it is hoped his primary role diminishes; fewer punts generally means more touchdowns and field goals.
While his average punt went down to 36.1 yards from 39.9 in 2004, Milne was perfect in another stat: None of his 41 kicks went into the end zone for a touchback.
His shining moment as a Warrior was in 2003, when as a freshman he pinned Alabama inside its 20-yard line six times on eight punts. The field position he gave UH was a big factor in the 37-29 victory, and Milne was rewarded with Western Athletic Conference special teams player of the week honors.
The native of Roswell, Ga., just a couple of hours from Tuscaloosa, hopes to do something similar in UH's opener at Alabama on Sept. 2 -- or, better yet, to hold for a lot of extra points.
---