DEFENSIVE LINE (DL)
Boning up on history of UH trench warfare
Jeff Reinebold has a strong sense of UH football history.
The Warriors' first-year defensive line coach can rattle of the names of all the greats from years past, everyone from Cliff Laboy to Travis LaBoy.
"I want all those guys to be proud of us and know we're holding up our end of the bargain," Reinebold said.
To that end, he asked each current Hawaii defensive lineman to pick one from the past to research. Also, graphic artist Kara Nishimura produced a mural of the past stars, which is now on the unit's meeting-room wall.
Reinebold is also a realist who understands tradition will only take you so far. The Warriors' front three must perform much better than it did in 2005 for UH to bounce back strongly from its first losing season since 2000. Hawaii yielded 438.4 yards per game, including 187,6 on the ground.
The starters are back in nose tackle Mike Lafaele and ends Melila Purcell and Ikaika Alama-Francis. The ends have both bulked up, especially Alama-Francis, who joined the team as a skinny basketball player three years ago and now packs 285 pounds on his 6 feet and 6 inches. Purcell hopes to bounce back from a season of nagging injuries. Lafaele, who came to Manoa as an offensive lineman, is up to 302 pounds. Ends Fale Laeli and Keala Watson flanked nose tackle Lawrence Wilson (a 500-pound bench-presser) on the second line headed into fall camp. Renolds Fruean might be the versatile one who can fill in at any of the three spots.
Unit at a glance

---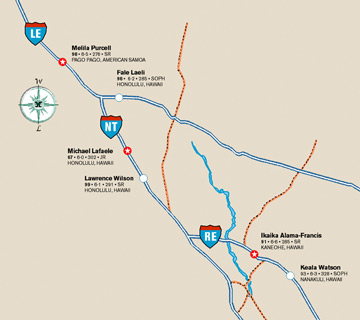 Veteran end's health is key to Hawaii defense
They say football players are never 100 percent healthy. But some are consistently banged up more than others.
Melila Purcell has had to deal with elbow, head, chest and knee injuries in his three seasons as a Hawaii defensive end.
Sometimes he has battled through the pain to play spectacularly -- like in 2003, when he came off a dislocated elbow to notch 12 tackles, including two sacks, against UTEP, gaining WAC player of the week honors.
Other times he has struggled but fought the good fight -- like last year, when he adjusted to UH's new 3-4 defense while dealing with a sprained knee. He received the Warriors' most inspirational player award at the postseason banquet.
Defensive line coach Jeff Reinebold summed up the two sides of Purcell succinctly.
"When he's healthy, Melila can take over a game," he said. "The scouts will be looking to see if he can take that pounding week-in and week-out."
---