| | |
| --- | --- |
| | Island Mele |
---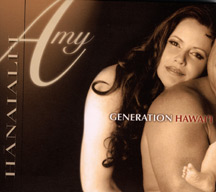 "Generation Hawai'i"
Amy Hanaiali'i
(Hanaiali'i HRCD 8556)
Amy Hanaiali'i Gilliom comes full circle with this aptly titled album. It is being distributed by the Mountain Apple Co. and so marks her return to the company that introduced her as a contemporary pop singer with her debut album, "Native Child," in 1995. Two songs on the new album reaffirm her credentials as a mainstream pop singer. Several Hawaiian songs reflect the depth of her relationship with her beloved grandmother, the late Jennie Napua Hanaiali'i Woodd, who appeared with her on the cover of her second album, "Hawaiian Tradition," in '97.
Producer Michael Ruff wisely opens the album with several soothing Hawaiian-language songs before moving into the pop material. Gilliom's longtime sideman David "Chino" Montero (on lead guitar and ukulele) is the foundation of a small group of musicians that includes Kirby Keough (rhythm guitar, ukulele, mandolin), Bobby Ingano (steel guitar) Keli'i Kaneali'i (12-string guitar) and producer Ruff (bass and piano). Kaneali'i, one half of the original HAPA duo and also a fine vocalist, also joins Gilliom for a romantic duet on "O Waipa Ke Malama Mau Ai" and provides the Hawaiian narration on "No Na Hulu Kupuna."
The latter is one of several new songs with lyrics translated into Hawaiian by Hoku Award-winning lyricist Kaumaka'iwa Kanaka'ole. Ruff's expansive bilingual arrangement makes it a stirring call for Hawaiians to "go back to the old ways."
Brief hints of Hawaiian chant add a local connection to "Jewel," a pop song written by Ruff, that sums up the themes of the 13 songs that precede it. "Hilo Town," one of Gilliom's originals, is a beautiful piece of contemporary hapa-haole music that could establish her as a national pop artist.
---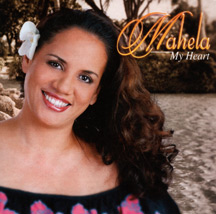 "My Heart"
Mahela
(Hula CDHS-640)
Mahela (surname Cockett) is the daughter of Marlene Sai and the grandniece of Andy Cummings, and she does her kupuna proud with this collection of Hawaiian and hapa-haole standards. She's recorded before, but this album should establish her as a major presence in Hawaiian music, and maybe even a Grammy winner as well.
"Ku'u Pua Lehua" stands out because it is one of Mahela's personal favorites that she does here as a duet with her mother. "Waikiki" is noteworthy for similar reasons: It's a excellent rendition of her great-uncle's signature composition and also one of the best-known hapa-haole songs of the 20th century. She sings it well.
Bryan Tolentino (ukulele), Hoku Zuttermeister (guitar, acoustic bass), Aaron J. Sala (piano) and Casey Olsen (steel guitar) back her with her exquisite synthesizer-free music. Thorough annotation completes this perfect Hawaiian album.
---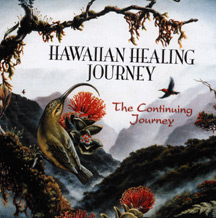 "The Continuing Journey"
Hawaiian Healing Journey
(Wire & Wood Music WWM0002)
The term "New Age" sometimes describes a style of instrumental music that is barely more than Muzak, but there are times when unobtrusive ambient music is the perfect antidote to the stress and pressures of modern urban life. Anyone looking for such relief will find it here.
Bassist Stephen Jones and guitarist Bryan Kessler are the producers of this series of albums intended to provide "peaceful rejuvenation." (The first was released in 2003.) Kit Ebersbach (keyboards), Ruth Komatsu (nose flute, recorder) and Maila Gibson (vocals) join them in creating a soothing musical tapestry, complete with nature sounds.
It might sound like spiritual hocus-pocus, but this stuff works! Given the tremendous levels of stress that come with living in urban Honolulu these days, not to mention dealing with rush-hour traffic, Jones and Kessler could have a million-seller.
John Berger
, who has covered the local entertainment scene since 1972, writes reviews of recordings produced by Hawaii artists. See the Star-Bulletin's Today section on Fridays for the latest reviews. Reach John Berger at
jberger@starbulletin.com
.