---
FAST FACTS HAWAII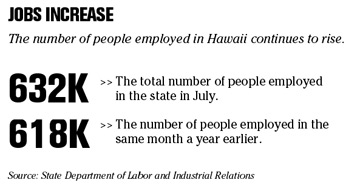 ---
HAWAII
Hawaiian finds harmony with Canadian carrier
Hawaiian Airlines
and Vancouver, British Columbia-based
Harmony Airways
are teaming up on a code-share agreement and interline electronic ticketing to facilitate flight connections for their customers between Hawaii and Canada.
Code-sharing allows a carrier to sell flights on another carrier. Interline e-ticketing allows customers to purchase a single e-ticket, check in once at their originating airport, receive boarding passes for connecting flights, and pick up their luggage at the final destination.
Harmony flies to Honolulu and Maui from both Vancouver and Calgary, Alberta.
Hawaiian now has interline e-ticketing agreements for flights involving service to Hawaii with 13 domestic and international carriers, including American, United, Northwest, Alaska, America West, Delta, Continental, ATA, British Airways and Japan Airlines.
Hawaiian said it now issues e-tickets to more than 95 percent of its customers.
NATION
Group says law saves Delta pension
A group representing retired
Delta Air Lines Inc.
pilots and their families said a new federal law may allow the airline to keep its pension plan and asked a U.S. judge to delay a hearing to consider terminating it.
DP3, a nonprofit corporation representing 2,850 retired pilots and family members, said the Pension Protection Act of 2006, signed into law on Thursday, appears to free Delta from having to make lump-sum payments to retirees. Without having to make such payments, Delta may be able to save its plan, DP3 said in papers filed with the U.S. Bankruptcy Court in New York.
Delta, the third-largest U.S. airline, has said it won't be able to exit bankruptcy unless the plan is terminated. The carrier said the plan doesn't have enough money to satisfy the lump-sum payment provision, which allows retired pilots to receive half their benefits in an up-front payment.
Apple accused of manipulation
Officers of
Apple Computer Inc.
, maker of the iPod digital-music player, manipulated options grants to sell more than $1 billion in company stock, according to shareholder lawsuits.
The cases, filed today in state and federal courts in San Jose, Calif., are similar to two shareholder suits filed last month seeking to recover money on behalf of Apple. They claim that Chief Executive Steve Jobs and other executives and directors changed their option-grant dates to reap "millions of dollars in unlawful profits."
Microsoft doubles stock buyback
Microsoft Corp.
, the world's largest software maker, almost doubled its stock buyback to $36 billion after an initial invitation for shareholders to sell failed to generate enough interest.
Investors tendered $3.8 billion of shares in an offer that expired last night, the company said, missing a goal of $20 billion, Redmond, Wash.-based Microsoft said yesterday in a statement. The company boosted the buyback by $16 billion to make up the difference.
Chief Executive Steve Ballmer started the tender to bolster a share price that has fallen 10 percent in the past two years. The failure of the tender may still be a sign of optimism among investors who are anticipating the stock will rise above the price Microsoft was offering.
WORLD
In other news ...
Hainan Airlines Co.
, a Chinese carrier partly owned by U.S. billionaire George Soros, made a profit in the second quarter after a year-earlier loss, as rising travel demand countered higher fuel costs.
---
BUSINESS PULSE