| | |
| --- | --- |
| | Newswatch |
---
BRAVERY AT ALA WAI HONORED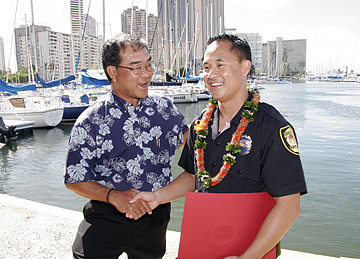 Jellyfish influx expected today
The box jellyfish did not show up as expected yesterday, but city officials say the influx is likely to peak today on some southern shores.
Box jellyfish routinely show up on southern shores about 10 days after a full moon. Officials warn people who are allergic to the stings to stay out of the water today. Waikiki Beach, Hanauma Bay, Pokai Bay, Makaha Beach and Waimea Bay have been affected by past influxes, a city news release said.
[ THE COURTS ]
Tax preparer must pay $70,000 in fines
A Kalihi tax preparer has been ordered to pay $70,000 in criminal fines and perform 120 hours of community service for preparing false and fraudulent tax returns resulting in hundreds of thousands of dollars erroneously refunded to Hawaii taxpayers.
Petala Lakatani, 64, was also placed on five years' probation and is prohibited from preparing tax returns or offering advice regarding taxes.
In an plea agreement with the state, Lakatani pleaded guilty to 24 counts of preparing false tax returns, and the state dropped 20 counts of second-degree theft on which he had been indicted. Both charges are Class C felonies.
The state said Lakatani claimed excessive itemized deductions on the returns he prepared for his clients.
The state Department of Taxation believes Lakatani prepared taxes for more than 600 people over a span of three to five years. More than 300 of those clients have since been audited and ordered to pay unpaid taxes, penalties and interest.
'Ice' sale gets woman 15-year prison term
An Oahu woman will have to spend more than 15 years in federal prison for selling four ounces of crystal methamphetamine, or "ice," to the FBI during an undercover investigation in June 2005.
U.S. District Judge Susan Mollway sentenced Dory Kim Frantz, 41, to 15 years and eight months in prison for conspiring to distribute and distributing ice. A federal jury found Frantz guilty of the crimes in April.
Greg Frantz, 40, and Joey Nicolai, 36, were arrested at the time of the purchase. They pleaded guilty to possession with intent to distribute ice. Frantz was sentenced in April to 10 years and one month in prison. Nicolai was sentenced in May to four years and nine months in prison.
The operation was a joint investigation by the FBI and the Honolulu Police Department.
---
What's inside your Star-Bulletin this weekend:
Saturday
Keeping Faith:
A religious group recruits churchgoing foster parents in Hawaii for abused and neglected children and others whom nobody wants. Page D6
Sunday
Today:
Kit Yan is a 22-year-old man who used to be a girl named Laura Yan, now a proud "hot tranny boi slam poet" who has taken his transgender issues public. A tomboy growing up, Yan was first exposed to gay life while attending Pearl City High School, but says there were few role models for girls who felt more comfortable as boys. Page E1
Today: The outlook for the upcoming TV season is so good that viewers are hereby warned to have their DVRs and VCRs cleaned and lubed for a fall workout like never before. Of the 26 shows bowing this fall on the five broadcast outlets, none is a sure loser, a stinkeroo so odious it can be sniffed out before the opening credits finish rolling. None! Page E1
Business: Gensiro Kawamoto, the oft-maligned Japanese billionaire, has signaled a shift in his investment strategy of Portlock and Hawaii Kai properties by snapping up more than $100 million worth of homes and land in Kahala. Page D1
Business: Flight attendants, whose job was once considered glamorous, might now have one of the toughest jobs in the airline industry. Security threats and terrorism alarms have given them more work and stress. Page D1
Sports: The first major prep weekend continues tomorrow with the Father Bray Classic in preseason football and the finals of the Ann Kang Invitational volleyball tournament where top teams from the mainland play local schools. Page B1
Sports: For the first time since she was 5, Tita Ahuna does not have a fall practice to attend. But the former Hawaii All-American volleyball player is enjoying her break after resigning as HPU volleyball coach. Page B1
| | |
| --- | --- |
| | Police, Fire, Courts |
---
NEIGHBOR ISLANDS
Big Isle man dies after motorcycle collision
HILO » A Big Island man died early yesterday after the miniature motorcycle he was driving was hit by a multipurpose vehicle.
Police identified the victim as Joseph K. Ferreira, 25, of Hawaiian Beaches near Pahoa.
Police said the 63-year-old driver of the multipurpose vehicle failed to yield the right of way while making a left turn off Kahakai Boulevard in Hawaiian Beaches about 9:40 p.m. Wednesday.
Ferreira was pronounced dead at Hilo Medical Center. Police said speed might have been a factor in the crash. The death brings the Big Island traffic toll to 23 for the year compared with 21 at the same time last year.
Boy charged in spree of property damage
Big Island police charged a 16-year-old Kapaau boy with eight counts of criminal property damage and five counts of burglary in connection with a rash of break-ins and graffiti incidents over the past four months.
Police said businesses in the remote North Kohala towns of Kapaau and Hawi were targeted between April 24 and Monday.
After being charged, the boy was released into the custody of his parents and the case referred to family court, police said.
HONOLULU
2 women are sought in theft of 12 dresses
Police are looking for two women in their 20s who allegedly stole a dozen dresses from a clothing shop in Ala Moana Center in June.
The dresses were recovered a month later by a store employee who found them at the Kam Super Swap Meet.
Police said two women entered Cinnamon Girl at 8:30 a.m. June 23 and allegedly removed 12 dresses and put them in a shopping bag. A store clerk found what happened moments later but could not find the women, police said. Anyone with information is asked to call CrimeStoppers at 955-8300 or *CRIME on a cell phone.
CENTRAL OAHU
Mililani man arrested in rape of 13-year-old
Police arrested a 23-year-old Mililani man who allegedly sexually assaulted a 13-year-old girl earlier this month.
Police said the man befriended the girl and then at about 9:30 p.m. Aug. 5 escorted her to a secluded area and raped her.
The girl identified her alleged attacker in a photographic lineup, police said. Officers arrested the man Wednesday for investigation of first- and third-degree sexual assault.
NORTH SHORE
Alleged gunman arrested in shooting
Police arrested a 22-year-old man who allegedly fired a shot at another man on the North Shore on Wednesday.
Police said the suspect pointed a gun at a 24-year-old man at about 4:30 p.m. at a Sunset Beach home and fired one round. The older man was not hurt and fled. Police later arrested the younger man for investigation of second-degree attempted murder.
WINDWARD OAHU
Suspect in robbery of Kailua bank sought
Police were looking for a man who robbed a Kailua bank Wednesday.
Police said the man walked into the First Hawaiian Bank at 705 Kailua Road at about 1:20 p.m. and demanded money. The man fled on foot with cash, police said.
The man was described as in his 40s, 5 feet 5 to 5 feet 8 inches tall, 150 pounds, with a brown complexion, medium build, black hair and dark mustache.
He was wearing a blue pullover shirt, blue jeans and a black belt. Anyone with information is asked to call CrimeStoppers at 955-8300.
Man allegedly deposits forged money orders
Police arrested a 36-year-old man who allegedly tried to deposit three forged U.S. Postal Service money orders.
Police said the man tried to make the deposit at a Kailua bank at about 9:30 a.m. yesterday. Police said bank officials checked the money orders and learned that the serial numbers were fraudulent.
The man was arrested for investigation of first-degree forgery and later released pending investigation.