---
FAST FACTS HAWAII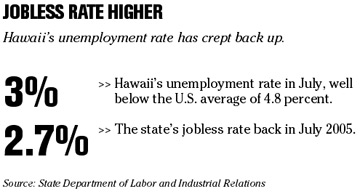 ---
HAWAII
Company to grow clams, oysters on Big Island
A Washington shellfish grower has plans to enhance the Big Island's standing as a cradle for U.S. oysters and clams.
Kona Coast LLC, an affiliate of Bellevue, Wash.-based Coast Seafoods Co., has been approved to use a 2.2-acre site at the Natural Energy Laboratory of Hawaii to grow pinhead-sized larval oysters and clams into dime-sized mollusks that can be flown back to the company's farms in Northern California and Washington state. From there, they will be grown further until ready to harvest, said Ron Baird, NELHA's chief executive.
Hawaii's warm waters enable the mollusks to grow several times faster than they do at the company's mainland shellfish beds, Baird said. Coast has been in the shellfish business since 1946, according to its Web site, and operates a facility in Quilcene, Wash., with the capacity to grow more than 30 billion oyster larvae per year.
Kona Coast will be the second firm to use the natural energy lab as a nursery for young mollusks; Taylor Shellfish already raises larval clams at the lab for export back to the mainland.
[HAWAII INC.]
NEW JOBS
»
Morgan Stanley
has hired
Michael Chang
as a financial advisor. He will work out of the company's Hilo office.
» The Hawaii Branch of the International Dyslexia Association has hired C. Kent Coarsey as its executive director. He will serve as the association's first full-time executive director since its inception in 1986. He previously served as president and founding member of Family Promise of Hawaii, which helps provide shelters for the homeless.
» SWCA Environmental Consultants has hired Heidi Hirsh to join its team of environmental professionals. She will focus on Department of Defense environmental programs throughout the Pacific and East Asia. She has more than 20 years of experience in natural resource stewardship and compliance.
» Kona Brewing Co. has announced the following new hires: Richard Towle, chief financial officer; Debbie Day-Sandobal, Koko Marina general manager; and Daniel York, kitchen manager/chef at Koko Marina. Towle will manage financial operations and oversee the operations of the company's two restaurants. He has 36 years of management experience. Day-Sandobal will oversee all daily operations for the Koko Marina restaurant. She previously worked at Guckenheimer Enterprises in California. York formerly worked for Haleiwa Joe's.
PROMOTIONS
» The University of Hawaii has promoted
Erik Shimizu
to Agribusiness Incubator Program market specialist. He will be responsible for providing business consulting to agribusiness clients throughout the state. He previously provided management consulting and audit services for global consulting and accounting firms.
» Bank of Hawaii has promoted Wayne Y. Hamano to senior executive vice president. He will add responsibility for Triad Insurance Agency and international commercial operations to his current areas. He will also become a member of the bank's managing committee.
» Peter Vincent & Associates has promoted associates Max Guenther and Michael Subiaga to senior associates. Guenther joined the company in 1996 as an architect and principal designer of residential and commercial work. Subiaga joined Peter Vincent in 1997 and is the project manager for several commercial projects.
» McDonald's Restaurants of Hawaii has promoted four employees. Louis Cheung has been promoted to field service manager. He will be responsible for working with field service consultants to provide support to owner/operators to ensure efficient operation of their restaurants. Danny Abreu has been promoted to field service consultant. He will consult with owner/operators to maximize sales and profit. Romeo Ramelb has been promoted to operations consultant. He has more than 20 years of management experience. Jerry Sugihara has been promoted to operations consultant. He has won the outstanding manager award three times, once on the national level, and he won the Ray Kroc Award in 2003.
AWARDS
»
Hawaii Allstate
has awarded the following agents its Quality Service Agent awards:
Ricky Bonilla
, Honolulu;
Erick Ellgren
, Honolulu;
Flo Garcia
, Kahului;
Steve Budar
, Kailua-Kona;
Tom Cerizo
, Wailuku; and
Rodney Yoshida
, Waipahu.
» The Certified Residential Specialist designation has been awarded to the following local real estate agents: Karen J. Davidson, Century 21 Liberty Homes, Mililani; Helen S. MacNeil, Coldwell Banker Pacific Properties, Honolulu; Trudy G. Mullins, Century 21 All Islands, Kailua-Kona; Kathleen V. Oldfather, Prudential Orchid Isle Properties, Hilo; David B. Oliva, Realty Edge Inc., Honolulu; Michael J. Smith, Kauai Realty Inc., Kapaa; Robert G. Staples, Coldwell Banker Island Properties, Kihei; Lynn Toma, Coldwell Banker Pacific Properties, Honolulu.
---
NATION
Ford to cut 6,000 more jobs
Ford Motor Co.
, which has been losing U.S. market share for a decade, is preparing to eliminate 6,000 more salaried jobs in North America next month, according to a person familiar with the plan.
Ford, the second-largest U.S. automaker, will try to achieve the cuts by offering buyouts and will resort to firings if it doesn't meet the target, said the person, who asked not to be identified because the details aren't public. The reductions are equal to more than 16 percent of the salaried work force.
The savings are part of Ford's effort to expand the revamping that began with its Way Forward plan, which called for shedding as many as 30,000 jobs in North America by 2012. Dearborn, Mich.-based Ford said in July it would make further cuts after a $1.44 billion net loss in the first half of 2006.
30-year mortgages fall further
WASHINGTON » Rates on 30-year mortgages fell for a fourth consecutive week as a slowing economy eased concerns about inflation.
Mortgage giant Freddie Mac said yesterday that 30-year, fixed-rate mortgages fell to 6.52 percent this week from 6.55 percent last week.
WORLD
Air China shares slip from IPO
SHANGHAI, China » Shares in China's flag carrier,
Air China Ltd.
, opened 0.7 percent down from their initial public offering price today, reflecting the dismal outlook for airline earnings due to high fuel prices, analysts said.
State-owned Air China's initial performance compared with 50 percent to 80 percent gains typical of most IPO debuts.
Earlier this month, the company cut the number of shares it was issuing by nearly 40 percent due to weak demand.
The decision -- the first time a Chinese company has scaled back a domestic IPO -- came amid a flurry of new stock offerings that analysts say have spread worries they could flood the market.
---
BUSINESS PULSE