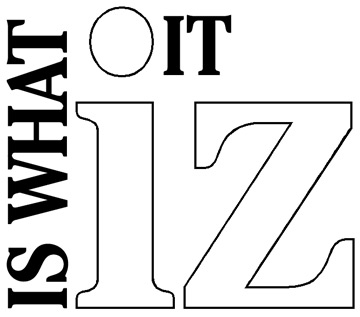 A new biography gets behind the myths to reveal the real man, with the cooperation of the musical legend's widow
A PICTURE-FILLED biography of Israel IZ Kamakawiwo'ole is guaranteed to be a best-seller in Hawaii, but writer Rick Carroll didn't take the easy way out. His new coffee-table book is no glossy puff piece; it tells the story of a gifted but flawed man -- "devious, manipulative, seeking total control of situations."
Carroll had the support of IZ's widow, Marlene Kamakawiwo'ole, to go beyond IZ's musical legacy -- probing areas that do not flatter the man. The two have done IZ's fans and historians alike a favor with their honesty.
Carroll, a former Hawaii resident who now lives in North Carolina, and designer Carol Colbath have done a beautiful job with "IZ," assembling an outstanding collection of family photos that cover his life from "small-keed time" to the final days, and beyond.
Almost everyone will find something new here. How many know that it was Oswald "Oz" Stender and Dwayne "Man of Steele" Steele who gave IZ $50,000 in 1993 for his second solo album, "Facing Future" -- and then approached Jon de Mello of the Mountain Apple Co. to produce it? De Mello honored their request for anonymity at the time, but Carroll acknowledges them here.
Or, for those who missed IZ's brief reunion with the Makaha Sons at the Na Hoku Hanohano Awards in 1996, photos by Honolulu Star-Bulletin photographer Dennis Oda capture the emotion of their final appearance together.
Based on interviews with people who knew him, Carroll describes IZ as "a spoiled brat." He quotes Jacqueline "Skylark" Rossetti, a close friend of the Kamakawiwo'ole family, as saying that the only person who could control IZ after his father died was his uncle, the late Moe Keale -- and that IZ even tested Keale's patience. Keale finally taught IZ not to lie to him by slugging him in the chest.
Carroll also mentions IZ's arrest for punching a tourist in Waikiki, although he puts the blame on the tourist. He writes that the man "shoved a baby carriage in front of cars to force a quick stop so that he could cross the street," and that an outraged IZ confronted the man and broke his jaw. Another version of the story that circulated at the time was that the tourist had the right-of-way and that IZ thought the man was cocky and needed a slap.
MARLENE says it was IZ's drug use that "made him deceptive."
IZ's temper, his drug use and the incident with the tourist are not usually mentioned in connection with his musical legacy, but Carroll and Marlene tell even more. She talks, for example, about giving up her career as a hula dancer at his insistence, and Carroll mentions "other women, drugs, a trial separation and reconciliation, and then, failing health" as some of the things that tested their 15-year marriage.
IZ, of course, went public late in life about his longtime drug use and often warned his fans not to follow his example.
Carroll also writes in detail of IZ's fatal addiction to food and the tragedy of morbid obesity. Carroll sums it up this way: "He lived to eat; his appetite killed him."
There are a few places, however, where important pieces of the story are missing. Carroll's account of IZ's abrupt departure from the Makaha Sons of Ni'ihau in 1993, less than a week before their big Makaha Bash 6 concert, is less than complete. It is a matter of public record that IZ and his attorney later conceded -- after reviewing records of the group's manager/agent -- that IZ's allegations of financial wrongdoing were without merit. Carroll doesn't mention this.
It might well be true, as Carroll states, that the other members of the group -- Louis "Moon" Kauakahi (IZ's brother-in-law), Jerome Koko and John Koko -- wanted to play more shows outside Hawaii and that IZ's failing health limited their ability to do so. But the fact that Kauakahi and the two Koko brothers all worked full-time day jobs was also a limiting factor.
Carroll's statement that the group "left (IZ) behind," when it was IZ who quit the group a few days before their biggest show of the year, puts a very odd spin on an unfortunate event.
CARROLL VENTURES into even more problematic territory when he describes IZ as "the Bob Marley of Hawaii" and then positions him as a musical pioneer of the sovereignty movement. It's true that the Makaha Sons of Ni'ihau's recording of "Hawaii '78," written by Mickey Iaone, was one of the first modern songs with a Hawaiian nationalist message, but neither the Sons nor IZ personally stepped forward for the cause in the way that other artists did. Olomana, for example, lost some gigs for its active support of the Protect Kahoolawe Ohana in the 1970s. John Kalani Lincoln, Liko Martin, Thor Wald, Brother Noland, Leo Anderson Akana and Henry Kapono Kaaihue are some of the other composers and recording artists whose work clearly predates IZ's active involvement as a nationalist spokesman in the mid-1990s.
IZ's biggest international hit, "Over the Rainbow," is a pop classic with no connection to Hawaiian nationalist issues, and several of the nationalist songs he recorded in his final years had previously been recorded by others. His best-known composition, "Pakalolo," described the fun of driving while stoned.
None of that diminishes the sincerity or impact of his work -- IZ did so much as a member of the Makaha Sons of Ni'ihau and then as a solo artist that it isn't necessary to inflate his résumé -- but he wasn't the "Bob Marley of Hawaii" any more than Bob Marley was the IZ of Jamaica. Each man was a unique artist, and the world is the better for it.
But despite the questionable theorizing, and a place or two where Carroll's obvious admiration for IZ takes over, this is a beautiful picture book and an impressively honest biography of a talented and very human man. IZ touched the hearts of millions with his music, and his popularity continues to grow. He did the best he could to keep his personal demons at bay for as long as he could, and none of us can do more than that.