---
FAST FACTS HAWAII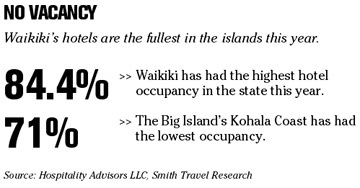 ---
HAWAII
Vacation program buys Big Isle villa
Crescendo LLC
, a California-based private equity investment group, has added its first Hawaii property to its vacation residence program. Crescendo, which has only been in business for two years, said yesterday it has acquired a custom 4-bedroom, 5 1/2-bath villa at Mauna Lani Resort offering 4,000-square feet of living space.
Other properties in the Crescendo portfolio include: Great Bear Lodge at Lake Tahoe; Casa Miramar in Los Cabos (Cabo del Sol), Mexico; Manhattan 205 in New York City; Casa Luna in Punta Mita, Mexico; the Rocks in Scottsdale, Arizona; and Les Saisons in Sun Valley, Idaho.
The Roseville, Calif.-based company offers its members 20 to 60 nights usage at any of its properties throughout the year, along with personal concierge services.
NATION
Pepsi boss to be No. 2 female CEO
NEW YORK »
PepsiCo Inc.
said yesterday that Chief Financial Officer Indra K. Nooyi will replace Steven Reinemund as chief executive officer of the soft-drink and snacks company, making her the No. 2 female CEO in the Fortune 500. With her Oct. 1 appointment, Nooyi takes her place in an elite group of 11 female CEOs running Fortune 500 companies. Patricia Woertz at agricultural processor
Archer Daniels Midland Co.
ranks first. ADM is ranked 56th in the Fortune 500, while PepsiCo, the world's second-largest soft-drink company after
Coca-Cola Co.
, is ranked 61st.
Reinemund, 58, will continue as chairman of the board until his retirement in May 2007.
Wal-Mart ordered to comply
OAKLAND » A California judge ordered
Wal-Mart Stores Inc.
to obey state laws requiring rest breaks for hourly workers. Alameda County Superior Court Judge Ronald Sabraw yesterday ruled that Wal-Mart wasn't in compliance with state rest break laws, pressured workers to waive meal breaks, and stopped tracking its compliance with break rules while senior company executives knew there were "widespread ... problems."
Inflation gauge may get more exact
WASHINGTON » The government is considering providing more information each month on its most closely watched inflation gauge as a way to dampen financial market volatility.
The U.S. Bureau of Labor Statistics is exploring a change to its Consumer Price Index that would provide details on inflation out to three decimal places instead of just one decimal place currently, BLS official Patrick Jackman said yesterday.
Private economists have argued that some recent readings have overstated inflation and would have looked less worrisome if the government presented the inflation numbers out to three decimal places.
Product to let people create games
REDMOND, Wash. >>
Microsoft Corp.
, the world's largest software maker, plans to introduce a product that will let consumers create games for computers and its Xbox 360 console.
A test version of XNA Game Studio Express that comes out Aug. 30 can be used to create games for Windows personal computers, said Scott Henson, a director in the company's game developer group. The final version out later this year will add the ability to build games for the Xbox 360.
Matsushita might close some overseas plants
TOKYO »
Matsushita Electric Industrial Co.
is reviewing its 170 overseas manufacturing plants to decide which to close, a company spokesman said yesterday.
The Japanese electronics maker of the Panasonic brand is targeting an operating profit ratio of 10 percent by the fiscal year ending in March 2011 under the leadership of Fumio Ohtsubo, who took office as president in June, spokesman Akira Kadota said.
Matsushita Electric, based in Osaka, now has an operating profit ratio of about 5 percent.
Japan's top business newspaper, Nihon Keizai Shimbun, reported yesterday that Matsu- shita will reduce its number of plants by about half in five years. Kadota said a study of the plants was still going on and declined to confirm the report.
---
BUSINESS PULSE