---
FAST FACTS HAWAII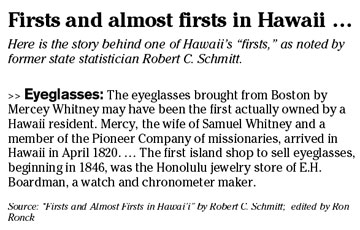 ---
NATION
Be cool but still look professional
During the recent heat wave, looking professional may have taken a back seat to keeping comfortable. But one expert warns that cooler looks may burn your chances in an interview.
"The way you look and carry yourself will send subtle signals to a prospective employer which can improve or derail your chances for making the cut," said Richard Bayer, COO of the Five O'Clock Club. "It's even trickier during the summer, when lighter, more casual attire is ubiquitous."
Bayer offers the following tips to beat the heat:
» Happy feet: If you'd rather travel in flip-flops or sandals, carry your dress shoes to change into before an interview. Not only will your feet thank you, but your dress shoes will stay clean
» Peel off: Put your suit jacket on at the last minute to avoid unwanted sweat stains on your back and under your arms. Also, men's ties can be knotted in advance for a quick change. Women, opt for camisoles or sleeveless tops under a suit
» Suit selection: Women can avoid pantyhose, which can be stifling in heat, by opting for a pantsuit instead. For men, invest in a summer suit made of lighter fabric to stay cool.
These courses can help land a job
Attention college students. While a four-year degree will help you in the job market, certain majors may best prepare you for the jobs of the future, according to one consultant.
John Challenger, CEO of global outplacement consultancy Challenger, Gray & Christmas Inc. offers the following course selections.
"All of these are directly transferable to the future job market," he said.
» Foreign languages and international relations: Challenger emphasizes studying Chinese and other Asian languages as those emerging markets grow. Understanding other languages, cultures and political systems is also necessary in a global economy.
» Physical therapy: As the Baby Boom generation grays, demand for health care providers will increase. Nursing, pharmacy and gerontology are other good options.
» Speech/acting: Brush off that Shakespeare soliloquy. While film and theater will remain tough professions, acting and speech skills can help future sales and marketing executives, Challenger said.
» Engineering: Already, employers are finding a shortage of engineers of all types and are looking abroad for more workers. If you're willing to put in the schooling, you'll always find demand.
---
BUSINESS PULSE