---
FAST FACTS HAWAII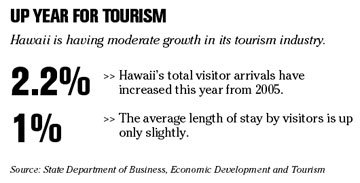 ---
HAWAII
St. Francis West nurses OK contract
Registered nurses at St. Francis Medical Center-West have ratified a new labor contract that provides for a 25 percent wage increase over three years.
The ratification vote, held Thursday night, brings the nurses' contract in parity with other Honolulu hospitals represented by the Hawaii Nurses Association.
"St. Francis West is an important medical center on this part of Oahu," said Jean Sugino, RN and nurse negotiator. "Our emergency room is constantly busy and full because we provide emergency and health-care services to the Leeward community. The nurses feel they are part of the community."
Agency initiates home projects
The state Department of Hawaiian Home Lands broke ground yesterday on one of its largest residential projects in Upcountry Maui.
Waiohuli, a new residential subdivision, is expected to offer 320 units to qualified native Hawaiians. Leases were awarded back in June 2005.
At the same time, the department also moved forward on infrastructure work for Keokea, a 66-lot farm subdivision next to Waiohuli, which had been in limbo for 20 years.
The total cost for the Upcountry Maui projects is about $33 million.
DHHL also plans to break ground on Waiehu Kou 4, a 96-home project also on Maui, as well as East Kapolei I on Oahu and Piilani Mai Ke Kai on Kauai later this month.
State to host tourism conference
The Hawaii Tourism Authority, the state agency that makes marketing and funding decisions for the visitor industry, will host its annual tourism conference on Sept. 12 -13 at the Hawaii Convention Center.
Peter Greenberg, "Today Show" travel editor, will be the keynote luncheon speaker for the event. He will be joined by other experts and by the state's tourism marketers, who will present visitor plans for next year.
Conference cost is $125 per person and includes lunch, refreshments and materials. Students will receive a discount admission of $50. There is no cost to attend HTA's marketing presentations on Sept. 13.
The deadline to register is Aug. 31. For more information call 956-8204 or visit www.hawaiitourismauthority.org.
NATION
Hawaiian seeks guidance from feds
PAGO PAGO, American Samoa »
Hawaiian Airlines
on Thursday asked the U.S. Department of Transportation to declare whether Gov. Togiola Tulafono's executive order barring the airline from serving Pago Pago is enforceable.
The Honolulu-based carrier, which has flown to American Samoa since 1984, filed a petition for declaratory relief.
Tulafono issued an executive order last month demanding Hawaiian Airlines end its Honolulu-Pago Pago route in favor of another airline.
Northwest union delays striking
MINNEAPOLIS » Against a backdrop of heightened security concerns,
Northwest Airlines
flight attendants decided yesterday to postpone the starting date of a threatened strike by 10 days, until Aug. 25. Without the postponement, sporadic strikes could have begun as early as Tuesday.
Union leaders said the foiled terror plot in London made safety issues the top priority. The delay also gives both sides extra time to negotiate a new contract.
The union is in the middle of a precedent-setting court battle with Northwest over the right of union members to strike a bankrupt airline. U.S. Bankruptcy Judge Allan Gropper on Wednesday heard arguments from the union and airline about whether an airline union can conduct a strike while a carrier is in bankruptcy.
Wal-Mart executive avoids prison time for false reports
Thomas M. Coughlin, the former vice chairman at
Wal-Mart Stores Inc.
, was sentenced to 27 months home detention, avoiding prison after admitting he falsified expense reports to buy liquor, care for his dogs and upgrade his truck.
U.S. District Judge Robert T. Dawson in Fort Smith, Ark., took into consideration Coughlin's fragile health in sentencing him to home detention, five years probation and a $50,000 fine. Coughlin, 57, will also pay $411,218 in restitution to Wal-Mart and the U.S. government. Prosecutors asked Dawson to sentence Coughlin to up to a year in prison.
Wal-Mart, the world's biggest retailer, has accused Coughlin in a civil suit of wrongly claiming reimbursement for hundreds of thousands of dollars worth of items including hunting gear, dog food, underwear, beef jerky and a stuffed wild boar. Coughlin, a friend of the late Wal-Mart founder Sam Walton, was head of theft prevention when he joined the company in 1978.
Prosecutors want Skilling to pay for Lay
U.S. prosecutors want Jeffrey Skilling, the convicted former chief executive officer of Enron Corp., to pay the full $182.8 million in criminal proceeds he and former Enron CEO Kenneth Lay obtained by defrauding shareholders.
Lay, convicted in May of securities fraud with Skilling, died of a heart attack July 5, before he could exhaust his appeals. As a result, his conviction and forfeiture requirements will be dismissed. The government had sought $43.5 million from Lay and $139.3 million from Skilling. In papers filed yesterday in Houston federal court, prosecutors told U.S. District Judge Sim Lake that Skilling, 52, is liable for Lay's profits.
"Lay's death does nothing to eliminate the criminal proceeds generated by him as proved at trial," Enron prosecutor Sean Berkowitz said in court papers. "Under a joint and several liability theory, those proceeds are available to be satisfied from Skilling's assets."
WORLD
Boeing's venture partner may face sanctions
MOSCOW » The
Boeing Co.
entered into a joint venture with a Russian supplier of titanium parts for its 787 Dreamliner airplane yesterday, though the supplier could fall under U.S. sanctions against companies that have exported military technology to Iran.
Boeing has been dealing with the Russian company, VSMPO-Avisma, for nine years , and has turned to it as a major supplier for its popular new midsize airliner, the 787 Dreamliner.
The airplane, which is designed to be more fuel-efficient than earlier aircraft because the use of titanium makes the frame lighter, will probably be popular with airlines as energy costs soar. First deliveries are expected in 2008, but the orders have been so strong the plane is sold out through 2011.
Avisma, now controlled by management, is being acquired by Russia's state weapons trading company, Rosoboronexport, which was among seven companies in Russia, Cuba, North Korea and India put on a sanctions list last week by the State Department for providing military technology to Iran.
---
BUSINESS PULSE