---
FAST FACTS HAWAII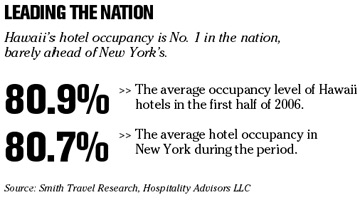 ---
HAWAII
HonBlue invests $2M in printing unit
HonBlue Inc.
of Honolulu has invested $2 million to roll out Boomerang, a subsidiary built around a state-of-the-art digital printer.
Boomerang's new Xerox iGen3 Digital Production Press will enable advertisers to customize the content of direct mail pieces for specific households based on information from marketing databases and other sources.
"Boomerang now has the ability ... to make every sheet of paper unique, increasing the effectiveness of direct mail by as much as 40 percent," the company said.
The new press also will enable business clients to set up "print-on-demand" Web sites with Boomerang, on which clients can design and order business cards and company forms as needed.
Cyanotech earnings will be delayed
Cyanotech Corp.
, a Big Island producer of nutritional products from microalgae, said yesterday it will delay its fiscal first-quarter earnings report after a matter emerged involving the company's historical treatment of inventory-related costs.
The company had been planning to release its earnings and hold a conference call today. Cyanotech said it now expects to file its quarterly report with the Securities and Exchange Commission by Aug. 21.
NATION
Profits double for Macy's parent
Federated Department Stores Inc.
, owner of Macy's and Bloomingdale's, said second-quarter net income more than doubled on rising sales and a gain from
Citigroup Inc.
's purchase of its credit-card receivables.
Net income climbed to $317 million, or 57 cents a share, from $148 million, or 42 cents, a year earlier, the No. 2 department-store company said yesterday, beating analysts' estimates. Its shares rose after the Cincinnati-based Federated also increased full-year earnings and same-store sales forecasts.
Sales at stores open at least a year gained 4.6 percent, the most in more than two years.
Fannie does not expect more errors
Fannie Mae
, the biggest source of money for U.S. home loans, said the $10.8 billion in accounting errors it was planning to record will be lower than anticipated because of "significantly" smaller mortgage investment losses.
The company mislabeled an unspecified amount of long-term loan-purchase agreements and will have to reclassify those contracts as derivative investments. The adjustment will result in a financial gain, the Washington-based company said yesterday in a regulatory filing with the Securities and Exchange Commission.
Chief Executive Daniel Mudd said the company doesn't expect to find any more mistakes that would alter its restatement.
Wal-Mart to work with China unions
BEIJING >>
Wal-Mart Stores Inc.
said today it has agreed to cooperate with China's state-sanctioned labor group in creating unions at its 60 Chinese outlets.
The announcement follows the creation of unions at five of the company's Chinese stores and is a victory for the All-China Federation of Trade Unions, the umbrella group for unions permitted by the communist government. The ACFTU had accused Wal-Mart of obstructing efforts to organize its 28,000 Chinese employees.
Disney's growth is across the board
LOS ANGELES » Profits rose at the
Walt Disney Co.
in the third quarter as the media conglomerate delivered growth from every division, including movies, theme parks, cable TV networks and consumer products.
The results released yesterday easily beat analysts' estimates and came after a yearlong effort to focus the company's money and talent on its core brands and sell its content on new technology platforms.
Under the leadership of Chief Executive Robert Iger, Disney also shed various businesses, including radio stations and its investment in US Weekly magazine, and trimmed staff at its movie studio as it sought to boost returns.
WORLD
Indian state bans sales of Pepsi, Coke
NEW DELHI » A southern Indian state banned the sale and production yesterday of Coke, Pepsi, Sprite and other soft drinks made by the Indian subsidiaries of
Coca-Cola Co.
and
PepsiCo Inc.
, an official said.
Four Indian states have already banned the sale of Coke, Pepsi and other soft drinks at schools, colleges and government offices after a research group in New Delhi last week claimed they contained high levels of pesticide residue.
The state of Karnataka said today it was also banning the sale of soft drinks at schools and colleges, while the state of Andhra Pradesh announced a ban at government hospitals.
But the state of Kerala was the first to impose a total ban on production and sales.
The moves likely will hurt sales of Coca Cola and PepsiCo beverages in India. The two companies account for nearly 80 percent of India's $2 billion-plus soft drinks market.
Kerala's health secretary, Viswas Mehta, said the state banned the drinks because of concerns over pesticide contamination and said his department began collecting its own samples of Coke and Pepsi for independent testing.
Both Coca-Cola and Pepsi insist their drinks are safe.
---
BUSINESS PULSE