---
FAST FACTS HAWAII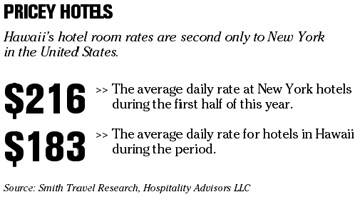 ---
HAWAII
Interisland fares drop back down to $29
In the latest round of the Hawaii airfare war,
Mesa Air Group
's new interisland carrier go! is resuming its deal for one-way tickets as low as $29.
Go!'s offer, available starting today, is for travel through Dec. 31, excluding Thanksgiving and Christmas Day, between Honolulu and Lihue, Kahului, Kona and Hilo. Tickets must be purchased by Friday. The tickets are nonrefundable, the fares may not be available on all flights, and changes will cost a $20 fee plus any applicable difference in airfare.
Hawaiian Airlines announced yesterday that it would match the deal. Aloha Airlines previously has matched go!'s fares as well.
Go! previously initiated a midsummer interisland price war when it started $29 one-way trips in July for travel through Sept. 30. The offer expired last week.
Hawaiian's one-way fare must be used for round-trip purchases in combination with the same or any other available interisland fare, and is subject to seat availability.
Hawaiian's passenger count rises
Hawaiian Airlines
' total passenger traffic rose 4.4 percent in July even as its percentage of seats filled slipped to 89.3 percent from 89.8 percent a year earlier.
The carrier had 571,569 passengers last month compared with 547,316 in July 2005.
Hawaiian's total miles flown by paying passengers decreased 0.5 percent to 623.9 million from 627.2 million.
Meanwhile, Mesa Air Group Inc.'s new interisland airline, go!, saw its load factor decline in July -- its first full month of operation -- after it doubled the size of its fleet at the end of June.
Go!, which began flying on June 9, filled 73.9 percent of its seats on its four aircraft in July after achieving an 82.5 percent load factor in its three weeks of operation in June.
Go!, which flew 69,680 passengers during the month, said its total miles flown by paying passengers were 9.8 million.
---
On assignment
Erika Engle is on assignment. TheBuzz will return tomorrow.
[HAWAII INC.]
NEW JOBS
»
Maui Divers Jewelry
has appointed
Boris Milgram
vice president. He will be responsible for store planning and assisting the president/CEO. He previously worked for Neiman Marcus in various merchandise management positions.
» First Hawaiian Bank has appointed Keethe Koyanagi president of First Hawaiian Leasing Inc. He will be responsible for the day-to-day operation of the company's leasing subsidiary. He replaces Steve Marcuccilli, who has retired.
» McDonald's Restaurants of Hawaii has hired the following personnel: Kelly Nakano has been hired as an area construction manager. He will oversee the remodeling, rebuilding and construction of the company's restaurants across Hawaii, Guam and Saipan. Tristin Villoria has been hired as a human resources specialist. She will responsible for processing temporary disability and workers' compensation cases, handling employee insurance benefits and overseeing the orientation of new personnel. And Ely Redor has been hired as receptionist for the Hawaii region corporate office. She previously worked at McDonald's of Wahiawa for four years.
>> Re/Max Kauai has hired Joy Zepeda as a real estate agent. She will work at the Kapaa real estate service center. She has two years experience in the real estate industry.
» Cirque Hawaii has hired Erin Guernsey as public relations director. She will be responsible for planning and executing the company's media relations, event coordination and marketing. She previously served as an account coordinator for Becker Communications Inc.
» University of Phoenix Hawaii Campus has hired Deborah Hornsby as campus college chair in charge of the College of Education. She will oversee local operations of the college including the selection and training of faculty and maintaining the quality of the educational programs. She has been an instructor with the university's graduate teacher education program since 2004.
» KGMB9 has hired Grant Morrow as engineering and information technology director. He previously served as information technologies director at KNTV NBC 11 in San Jose, Calif. He began his broadcast career as a producer at WBAL-TV in Baltimore.
PROMOTIONS
» Hilton Hawaiian Village Beach & Resort has appointed
David Means
as front office operations director,
Jacque Lakatani
as assistant front office operations director,
Dave Kaneshiro
as front office manager,
Samuel Sun
as national sales manager, and
Jonathan Clausen
as regional sales manager.
» Hilton Waikoloa Village has hired and promoted the following personnel: Gayle Krueger, training manager; Haley Albertson, events manager; Britta Silva, restaurants director; Tony Drogaris, beverage manager; Fumiko Young, Far East service manager; Mary Jang, assistant manager; Dane Tolentino, housekeeping manager; and Raynette McGiness, housekeeping manager.
» Heide & Cook Ltd. has promoted Mel Sato to chief estimator and Jack Cai to senior estimator. Sato will oversee the estimating department. He has nearly 37 years of experience in the construction industry. Cai retains his previous responsibilities and will also be responsible for management duties. He has more than 20 years of experience in the construction industry.
» Energy Industries LLC has promoted Brian Kealoha to senior vice president. He will be responsible for the global sales division. He previously served as business development vice president.
ON THE BOARD
» The Academy of the Pacific has elected four new members to its board of trustees for the 2006-2007 school year:
Cynthia "Sam" Hoffman
, corporate marketing director,
Outrigger Hotels and Resorts
;
Creighton Liu
, strategic planning director, Kaiser Permanente Hawaii;
Tammie Omoto
, administration and operations director,
Avalon Development Company LLC
; and
Royce Sonnenberg
, community volunteer.
---
NATION
Clear Channel profit falls on costs
SAN ANTONIO »
Clear Channel Communications Inc.
, which operates seven radio stations on Oahu, said yesterday its second-quarter earnings fell more than 10 percent as higher operating costs offset a gain in revenue.
Net income fell to $197.5 million, or 39 cents a share, from $220.7 million, or 40 cents a share, in the year-earlier period.
Revenue rose 7 percent to $1.85 billion from $1.72 billion a year earlier.
Clear Channel, the world's largest radio broadcaster, operates Oahu stations KDNN-FM 98.5, KHBZ-AM 990, KHVH-AM 830, KIKI-FM 93.9, KSSK-AM 590, KSSK-FM 92.3 and KUCD-FM 101.9.
Judge OKs Northwest refinancing
NEW YORK » A judge approved yesterday a $1.38 billion debt refinancing plan by Northwest Airlines, which is restructuring in an attempt to emerge from bankruptcy protection.
Judge Allan Gropper approved the company's motion to refinance an existing $1.125 billion loan and to take an additional $250 million in debt so Northwest Airlines Corp. can have greater liquidity. He called it a "highly beneficial transaction" that would help the company on its way to be healthy and competitive.
---
BUSINESS PULSE