DLNR gets started on Round Top fix
The city will follow with road repairs as soon as September
The buzz of chain saws echoed from Tantalus Mountain yesterday as workers began removing trees along a section of Round Top Drive that has been closed since multiple landslides in March.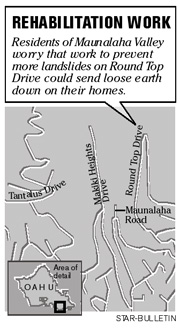 After 27 damaged trees are taken out over the coming week, a section of the mountainside will be shaved from its current 65-degree slope to about 45 degrees, said Dickey Lee, a state Department of Land and Natural Resources engineer.
That will mean taking away 14,000 cubic yards of volcanic cinders, the loose soil that caused the landslides after heavy rain. That is about 500 dump truck loads by the end of August, Lee said.
The DLNR is responsible for stabilizing the steep hillside, while the city will handle repairs of the roadway itself, beginning as soon as September.
"We'll be leap-frogging each other," DLNR Director Peter Young said yesterday at the site.
The first phase of state work, to cost $1 million, is to be completed by the end of August, Young said. It will include putting erosion control nets and hydromulch on the slope and concrete jersey barriers along the roadside.
Then the city will work on repairs to Round Top Drive, Young said. When road repairs are complete, the city will assess whether to reopen the road or wait until after the DLNR completes a second phase of slope stabilizing.
The second $3 million stabilizing will include tiny Maunalaha Valley downhill from Round Top Drive, which is home to about 30 families that lease land from the DLNR.
Some Maunalaha residents questioned yesterday whether it is wise to move soil on the upper slope before shoring up the lower slope in their valley.
"That's okole-backward," said Leinaala Lopes, a lifetime resident of Maunalaha.
"That puka should be fixed before they fix the road," she said, pointing to a hole in the mountainside that formed on the slope between her home and Round Top Drive during March landslides. The hole has widened since then, she said.
"I'm not an engineer," said Maunalaha resident Sally Moses, "but after living up here so long and seeing the way this black sand moves and how things work," she wonders whether heavy machinery and large dump trucks on Round Top Drive might not trigger a landslide onto the homes in Maunalaha Valley.
DLNR engineer Lee called the slope-fixing job yesterday "a real difficult project," and said he understands Maunalaha Valley residents' concerns.
But Lee said DLNR consultants EarthTech will have to design the stabilization of the lower slope after seeing how the city fixes Round Top Drive.
Few details on the city's plans were available yesterday. City spokesman Bill Brennan said in an e-mail that if the city can "get the approvals/permits by September, the construction activities would extend to February 2007 or so" on the road.
That timing concerns Lopes and Moses, they said, because it would be well into the winter rainy season.