Maui Land & Pine earnings fall after drop in land sales
Hammered by a decline in land sales compared with the same period a year ago, Maui Land & Pineapple Co. Inc. reported a net loss of $2.6 million, or 36 cents per share, for the quarter ended June 30.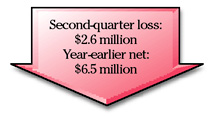 The loss compared with net income of $6.5 million, or 90 cents a share, for the same period in 2005. The loss came on revenue of $33.6 million, which was down about 34 percent from the $51.2 million in the second quarter of 2005.
David Cole, Maui Land & Pineapple's chairman, president and chief executive, attributed the drop in earnings in part to the effects of modernizing and resizing the company's pineapple unit. Maui Land & Pineapple has been shifting its focus from canned pineapple to premium Maui Gold brand pineapple and has invested in a new fresh fruit packaging facility.
Although the company's agriculture division contributed to the loss, the main cause was a decrease in land sales from Maui Pine's development segment. The company has been selling land it considers irrelevant to its long-term strategy, and during the second quarter of last year closed on a major sale of property in Upcountry Maui, said Robert Webber, Maui Land & Pineapple's chief financial officer.
The lack of such a sale during the second quarter of this year caused revenue and earnings to drop off significantly from the same time last year, Webber said. Revenue from the community development division dropped by $19.3 million, or 72 percent, during the period. Operating profit for the division, meanwhile, plummeted to $707,000 from $15.4 million.
Maui Land & Pineapple shares dropped 10 cents yesterday, or just less than 3 percent, to close at $36.90.