The Bloomberg /
Star-Bulletin Index
---
Hawaiian Air jumps
Hawaiian Airlines' parent company surged 10.2 percent this week ahead of its quarterly earnings report next week to lead the way in the Bloomberg Honolulu Star-Bulletin index.
Hawaiian Holdings Inc.
, scheduled to report its second-quarter earnings on Monday, closed yesterday at $3.35, matching the previous day's close and marking its highest finish in five weeks.
Alexander & Baldwin Inc., whose earnings last week topped analysts' average estimate by 19 cents, gained 5.2 percent to $42.29.
Barnwell Industries Inc. had the third-best performance as it rose 5 percent to $23.85.
The Bloomberg / Star-Bulletin Index is a price-weighted index designed to measure the performance of Hawaii-based companies. The index was developed with a base value of 100 as of December 31, 1999. A chart of the index which shows the weekly performance of its members is published weekly in the Honolulu Star-Bulletin.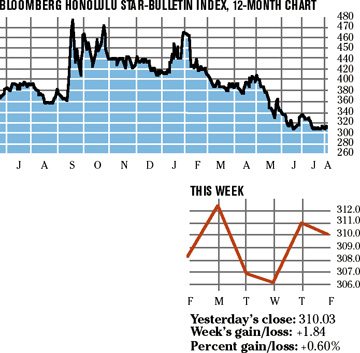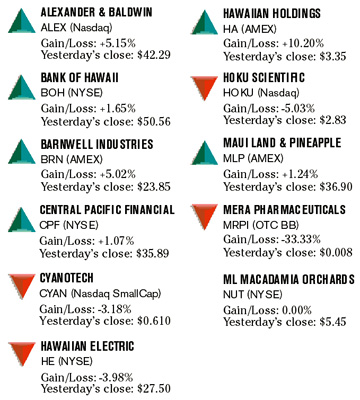 SOURCE: BLOOMBERG NEWS / STAR-BULLETIN GRAPHIC