---
FAST FACTS HAWAII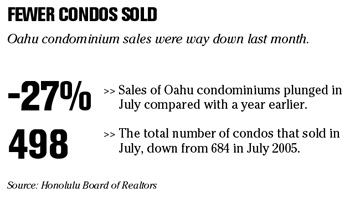 ---
HAWAII
Startup will show off new kind of windmill
As a prelude to its formal launch in Hawaii next month,
Energy Management Group,
an alternative energy startup in Honolulu, will introduce its vertical-axis wind turbine at the University of Hawaii's Spalding Auditorium tomorrow afternoon.
The small cylindrical windmill, which rotates on a vertical axis -- like a helicopter -- rather than horizontal axis, marks a "very important advance" toward enabling individual homeowners to establish wind energy systems, said Richard Figliuzzi, president of Energy Management Group.
HMSA opens call center in Hilo
The Hawaii Medical Service Association has opened a new telephone call center in Hilo.
It will handle phone inquiries from 8 a.m. to 4 p.m., Monday through Friday, and be staffed by 11 customer service representatives and one supervisor. It is connected to HMSA's phone and information system on Oahu.
Hilo's HMSA branch office at 670 Ponahawai St. will continue to service members with walk-in inquiries.
Analyst downgrades HEI's stock
Hawaiian Electric Industries Inc.
, which missed second-quarter earnings estimates by 8 cents, was downgraded yesterday to "underperform" from "neutral" by analyst James Bellessa Jr. of Great Falls, Mont.-based
D.A. Davidson & Co.
His 12-to-18-month target price is $25. The stock closed down 32 cents yesterday at $27.50.
Of the six analysts who cover the stock, two rate the shares as "buy," two as "hold" and two as "sell."
NATION
Concerns about oil supply ease
NEW YORK » Oil prices slipped below $75 a barrel yesterday as supply concerns eased, after a storm in the Caribbean weakened and appeared to no longer threaten Gulf coast oil facilities.
Prices remained high, though, and are subject to big swings as traders monitor various factors that could affect supply, such as the potential for storms in the Gulf, record temperatures throughout the United States, violence in the oil-rich Middle East and political strife in Nigeria, Africa's biggest oil producer.
Also keeping crude above the $70-a-barrel level is strong energy demand in the United States and other countries, especially China, despite soaring prices. The Energy Department said in its weekly petroleum report Wednesday that U.S. gasoline demand is still above year-ago levels.
Retirement hits Washington Post
WASHINGTON » Second-quarter earnings for the
Washington Post Co.
were nearly flat despite a gain in revenue as charges from early retirement buyouts at the Washington Post newspaper weighed on results.
The results reported Friday appeared to miss Wall Street estimates, and the company's shares fell $11.10, or 1.4 percent, to close at $754.41 on the New York Stock Exchange.
The publisher of the Post and Newsweek magazine and owner of educational services provider Kaplan Inc. earned $78.5 million, or $8.17 per share, after preferred stock dividends for the three months ended July 2 compared with $78.5 million, or $8.16 per share, during the same period last year.
Berkshire Hathaway's profit skyrockets on investments
OMAHA, Neb. »
Berkshire Hathaway Inc.
, billionaire Warren Buffett's investment vehicle, reported yesterday that second-quarter earnings jumped 62 percent on strength in its investments and insurance and utility businesses.
Berkshire earned $2.35 billion, or $1,522 per share, for the three months ending June 30, versus $1.45 billion, or $941 per share, in the year-ago period, according to Berkshire's filing with the Securities and Exchange Commission released late yesterday afternoon.
The Omaha-based company's revenue jumped 33 percent to $24.19 billion during the quarter. Berkshire had $42.07 billion cash on hand at the end of the quarter, down from 42.86 billion at the end of the first quarter.
Berkshire officials typically do not comment on quarterly earnings reports, and they did not return calls seeking comment yesterday.
Berkshire's insurance companies, which include auto insurer GEICO and reinsurance giant General Re, reported net underwriting earnings of $371 million, down slightly from last year's $376 million.
WORLD
British Airways boosts profit 72%
LONDON »
British Airways PLC
said yesterday its first-quarter net profit rose 72 percent as the carrier saw passenger traffic driven by low fares on short-haul routes and strong demand for lucrative business class flights.
Middle East fighting is hurting Motorola
Motorola Inc.,
the world's second-biggest maker of mobile phones, said the war between Israel and Hezbollah fighters in Lebanon may harm manufacturing and sales in the region.
Motorola has 3,500 employees in Israel including engineers and administrative workers in the head office in Tel Aviv and factory workers at a plant in the south of the country, Motorola spokeswoman Jennifer Weyrauch said yesterday.
The war began after Hezbollah, a Shiite Muslim group, captured two Israeli soldiers near the Lebanon border July 12. Israeli warplanes bombed Beirut yesterday while troops advanced further into southern Lebanon, an area controlled by Hezbollah and used to launch rockets into Israeli cities. About 500 rockets killed nine civilians in Israel in the past two days.
---
BUSINESS PULSE